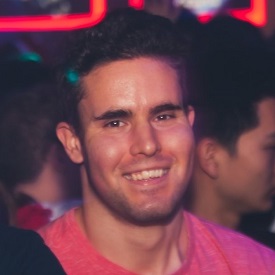 Benjamin Forgacs
Country Of Origin: United Kingdom
Degree: BSc Finance (Industry), 2022
---
Analyst, MUFG
---
Why did you choose to study at LUMS?
I chose to study at LUMS after seeing the university in action during one of the open days. The diversity of culture and inclusiveness of the community convinced me that this is a place where I can belong. LUMS was ranked top 10 in the league tables which assured me that I would receive the highest quality of education in the UK.
What was the best thing about your course?
My favourite part about my course was that it covered a broad variety of topics. Whether it was financial markets, asset pricing or econometrics, the content of the modules has been beneficial to prepare me for my graduate role.
What/who inspired you most at LUMS and why?
I found the Lancaster University Investment and Finance society online before joining. The prestigious work and collaboration between students in this society are what motivated me to apply to the University.
Did you do a project, placement or study abroad? What did this involve and what did you gain?
During my time at Lancaster, I completed a placement year at Fitch Ratings and also worked at a summer internship for MUFG. My role in Structured Finance at Fitch Ratings taught me how to analyse complicated financial vehicles used to connect lenders with investors. At MUFG I worked in the Leveraged Finance team where I learned how to model sponsor-led transactions and produce marketing materials for clients.
Describe your time at LUMS in three words.
Engaging, inspiring and inclusive.
What are the best things about living in the Lancaster area?
Lancaster is a tight-knit community. Coming to Lancaster from a big city was a huge change for me. You end up bumping into the same people several times a week on campus or in the city centre. This is a perfect way to build meaningful connections with people. The short five-minute chats and greetings with each other are what allowed me to build such a broad social network during my time at university. As a road cyclist, the countryside is alluring to me. Lancashire has endless stunning scenery to explore right by the doorstep of the Lancaster University campus.
Which parts of your Lancaster experience were the best preparation for your job?
I found that the Ghosal Investment fund was an excellent way to prepare for my graduate role. Having been part of this student-run investment fund throughout my time at Lancaster, starting as an analyst and working up to becoming the fund manager by my final year, I had the opportunity to develop dozens of practical and fundamental skills that are necessary to excel in a graduate role.
What impact has your Lancaster experience had on your career?
The expertise of the careers team at LUMS has guided me through the application process for internships and graduate roles. It is due to the attentiveness and personalised help of the careers team that I was able to secure several experiences during my time at university.
Is there anything else about your LUMS experience that you'd like to share with us?
Don't be afraid to try something new. I wasn't sure about joining societies when I first arrived at Lancaster, but I am glad I joined several groups. It allowed me to meet a variety of people and build a better understanding of the career landscape that students face.