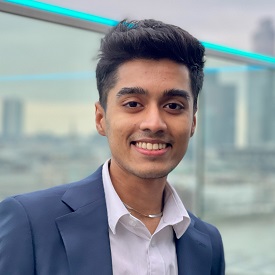 Shacind Ananthan
Country Of Origin: Malaysia
Degree: BSc Economics, 2022
---
Associate Consultant, Mastercard
---
Why did you choose to study at LUMS?
I chose to study at Lancaster for two reasons. One was the acclaimed status of LUMS, especially the Economics Department being a leader in research in the UK. Second was the employability factor that LUMS had a high reputation for. The careers team support and many different facets of the student experience, like societies and volunteering work, went hand in hand to help us navigate through the strenuous labour market.
What was the best thing about your course?
The flexible approach to learning at Lancaster, which encourages students to adopt a minor alongside their major subject. This is different to many UK universities and I had the opportunity to develop other skills alongside my Economics degree.
What/who inspired you most at LUMS and why?
The leading research that LUMS was involved in was a huge factor that inspired me most. At LUMS, you are taught by leading industry luminaries as the lecturers are often researchers themselves, ensuring that the material taught is relevant to changing times and industry practices.
Describe your time at LUMS in three words.
Humbling, Life-altering, Incomparable.
What are your best memories of your time at Lancaster?
My best memories at Lancaster are of the people I met and the friendships I fostered through societies. It opened up so many opportunities in terms of my career and personal development.
What are the best things about living in the Lancaster area?
Lancaster is a small but bustling town. As such, you will often meet someone you know while walking in the streets and you will be able to get anything you need just a stone's throw away. It's also just an hour away from Manchester and the Lake District if you need a taste of the city or nature respectively!
What impact has your Lancaster experience had on your career?
The Lancaster experience has given me a holistic skillset, from academic to extra-curricular activities which solidified the basics of what is required to enter the working world.