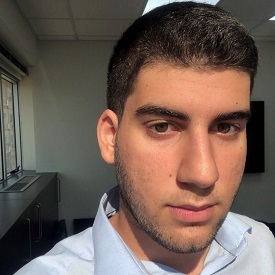 Panagiotis Kleanthous
Country Of Origin: Cyprus
Degree: BSc Accounting and Finance, 2022
What was the best thing about your course?
The best thing about my course was the flexibility it offered after the first year. In my second year of studies I was able to select modules that I was interested in from the whole LUMS range and not just the Accounting and Finance Department. Subsequently, in my third year I could tailor my course based on my favourite modules that I had been introduced to in the previous years, and I had the ability to tailor the course to my best interests. This is an amazing experience when it comes to undergraduate studies as I was able to be exposed to niche areas of my discipline.
Did you do a project, placement or study abroad? What did this involve and what did you gain?
During my final year I completed a project that involved researching a specific company failure in terms of internal controls and ways these internal controls could be improved, and the concept of accountability. Thanks to this project I have developed my ability to independently analyse, synthesise, and critically evaluate specific information about a topic. Furthermore, I gained and realized the importance of the critical skill of written communication and how to enhance my report-writing skills. Overall, I developed an in-depth understanding of the research topic I chose when completing my project.
Describe your time at LUMS in three words.
I would describe my time at LUMS as: character-building, fun, and memorable.
What are your best memories of your time at Lancaster?
The best memories of my time at Lancaster involve working at the Undergraduate Open Days at LUMS, as a student ambassador. It might be a part-time job, however working at the Open Days has been one of the most unforgettable experiences I have been involved in. As an ambassador, I have interacted with University staff who helped me gain new perspectives on my time at university. I also enjoyed sharing my experience with younger people entering their university journey.
What are the best things about living in the Lancaster area?
The best thing about living in Lancaster is the feeling of belonging and the sense of community you are exposed to from the very first moments of arriving. A tiny town with so many students and people trying to improve the university experience in their own way. It might be a comparatively small area, however the opportunities it offers are innumerable. As a student you have the ability to join and excel in so many communities that enhance the experience of university, creating special memories.