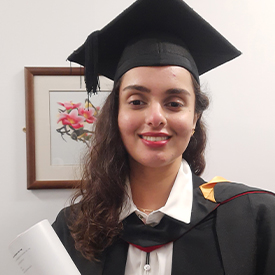 Aleena Shaheryar
Country Of Origin: Pakistan
Degree: MSc Money, Banking and Finance, 2021
---
Platform Operations Analyst, TallyMoney
---
Why did you choose to study at LUMS?
This decision was quite an easy one to make as LUMS stood out from all the other universities I got offers from. It was ranked high in the league tables and had outstanding student reviews. The program I chose was very well structured, with an exceptionally qualified faculty. I was also impressed with the pre-offer acceptance support I received from the LUMS staff. To top it all off, I was awarded with a departmental scholarship, for which I am forever grateful.
What was the best thing about your course?
I thoroughly enjoyed learning programming software such as R Studio, MATLAB, Python and STATA which complemented the theoretical part of the course. Now when I apply for jobs, these skills make me stand out.
What/who inspired you most at LUMS and why?
The people. I made smart, humble and extremely motivated friends, from all around the world, who supported me throughout the course. To see them work hard and strive for their goals was very inspiring.
Did you do a project, placement or study abroad? What did this involve and what did you gain?
My thesis was titled 'Brexit and Covid-19 - Forecast of the UK economy (2022-2025)'. I was grateful to be alloted supervisors that were able to guide me throughout the project. I gained valuable programming skills and developed a deep interest in the niche fields of economics.
Describe your time at LUMS in three words.
Life-changing, memorable, and fun!
What are your best memories of your time at Lancaster?
All my best memories revolve around the fun my flatmates and I had during our time living in Lancaster. From flat get-togethers to midnight walks through the woodland trail, wish I could travel back in time!
What are the best things about living in the Lancaster area?
Where do I begin? The beautiful countryside, kind and humble locals, rich history and the fact that Windemere is in close proximity, makes Lancaster an ideal place to live.
What impact did scholarships or funding have on your degree experience?
I was able to study at LUMS primarily because of the scholarship I received. It would have been extremely difficult for me to afford it otherwise. The job, experience and opportunities I have now, I owe it all to LUMS!
Which parts of your Lancaster experience were the best preparation for your job?
The support I received from the Careers department was very helpful. This included CV building and preparation for the various aptitude tests.
What impact has your Lancaster experience had on your career?
Having a degree from a renowned university like Lancaster has opened many doors for me. I managed to get multiple job offers in Manchester and London because of the skills I gained from my time at Lancaster.