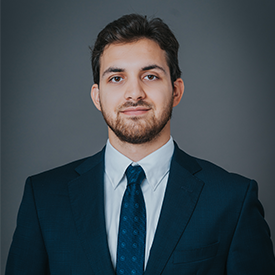 José Dias
Country Of Origin: Portugal
Degree: MSc Money, Banking and Finance, 2022
---
Assurance Associate Assistant, PwC
---
Why did you choose to study at LUMS?
I chose to study at LUMS because I felt that this international experience would be meaningful to broaden my horizons. LUMS presented itself as the perfect place to do so, not only because of the quality of the campus and the program, but because of the people that study and work there.
What was the best thing about your course?
The best thing about the course was the opportunity to meet exceptional people from literally everywhere around the world. Being surrounded by great people while aiming to study in my field of interest has been an amazing experience.
What/who inspired you most at LUMS and why?
I believe that one of the people who inspired me the most at LUMS was a flatmate of mine. Being away from my family while trying to challenge myself was not an easy road, so it's important to acknowledge the people that always stood with me.
Did you do a project, placement or study abroad? What did this involve and what did you gain?
Study Abroad gave me the confidence to develop a wide set of human and technical skills that I shall keep developing every day.
Describe your time at LUMS in three words.
Opportunity to grow.
What are your best memories of your time at Lancaster?
My best memory from Lancaster is for sure the intense debates that I had with many of my colleagues. Debating is not only about proving your point, is also about learning what you haven't even considered.
What are the best things about living in the Lancaster area?
The peace and quiet, and the surroundings with a natural green environment.
What impact did scholarships or funding have on your degree experience?
CPBS partnership with LUMS allowed me to have the option to study abroad.
Which parts of your Lancaster experience were the best preparation for your job?
The Banking component of my program played a crucial role in preparing me for my new role, as it laid the bedrock on which all the knowledge that I hope to acquire will be built on.
What impact has your Lancaster experience had on your career?
Lancaster played a significant role in my career as it allowed me to land a job even before I graduated. The quality and recognition of the university are well acknowledged worldwide.