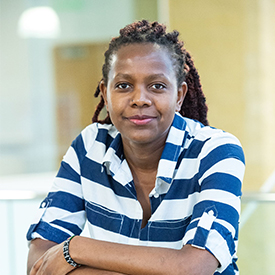 Esther Kithuka
Country Of Origin: Kenya
Degree: Full-time MBA, 2022
---
Senior Consultant, TMT
---
What did you do prior to joining the MBA?
I worked as a Data Scientist.
Why did you decide to do an MBA?
To develop a well-rounded, multi-faceted understanding of how businesses operate in addition to exploring new cultures and business environments.
Why did you choose Lancaster University?
The diversity and good academic standing of Lancaster University, combined with the warm and welcoming nature of the admission team, right from interviews to registration.
What did you enjoy most about the Lancaster MBA?
A good learning ecosystem that incorporates knowledge and experience from academics and industry, warm and ready-to-help administration, beautiful scenery and a diverse and friendly community.
How do you think the Lancaster MBA benefitted you?
The Lancaster MBA exposed me to the multi-faceted nature of business, challenged my perspectives about business and life in general, and helped expand my networks.
What impact has your Lancaster experience had on your career?
It has helped me transition into a new industry and expand my skillset, knowledge, and professional network.
Is there anything else about your MBA experience that you'd like to share?
Learning the art of reflection has dramatically impacted my personal life; it has become key to continuous growth and self-awareness. So grateful to the MBA team for drilling this into us from day one.