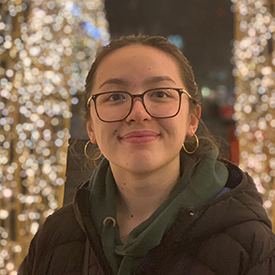 Nikita Nielsen
Country Of Origin: Germany, United States
Degree: BSc Marketing and Design, 2022
---
Junior Account Manager, TBWA
---
Why did you choose to study at LUMS?
I wanted to study marketing but also hoped to explore my creative potential with this unique combination of degrees.
What was the best thing about your course?
I loved the people I met - both the professors and the students.
What/who inspired you most at LUMS and why?
The wall in the LUMS building with faces of Lancaster alumni - I really want to be on there one day.
Did you do a project, placement or study abroad? What did this involve and what did you gain?
On my degree one of the courses I had was design materials - the outcome of this course was to build a functional automaton. I had no idea what that was before coming on the course, have notoriously terrible spatial thinking, but I made a little automaton I called "the apple game" based off a vintage French toy from the 1800s. This took a long time, long hours in the studio (some panicking), but it was an amazing feeling once I completed this project, to hold something that was (to a certain extent) designed by me and built by me.
Describe your time at LUMS in three words.
Busy, inspiring, international.
What are your best memories of your time at Lancaster?
Some of my best memories at Lancaster are struggling through deadlines with my coursemates, hanging out with my flatmates and friends, and obviously getting to feed the ducks (feed them oats not bread it's healthier for them).
What are the best things about living in the Lancaster area?
The views in Lancaster are truly one of a kind - walking along the canal, towards the aqueducts, and standing on the top of Williamson memorial are an absolute must to see some magnificent scenery. Generally Lancaster is so green and peaceful, so naturally there's loads of animals (particularly ducks), but you aren't too far from major cities like Edinburgh and Manchester.
Which parts of your Lancaster experience were the best preparation for your job?
Being on the committees for Advertising and Taekwondo societies gave me a lot of confidence in public speaking, presenting, and leadership. As social media manager and content creator for Taekwondo, I was able to enhance my creative skills too.
What impact has your Lancaster experience had on your career?
By being involved in Lancaster University life on various projects, committees and events I was able to build a better picture of the value I contribute and gain more confidence in myself and my abilities. I can enter a room full of strangers, and feel like I belong and deserve to be there.