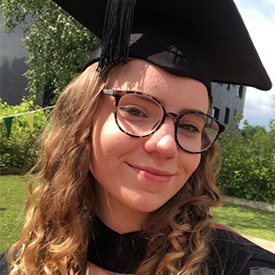 Zoe Watson-Field
Country Of Origin: United Kingdom
Degree: BSc Economics, 2022
---
Assistant Economist, Department for Digital, Culture, Media and Sport
---
Why did you choose to study at LUMS?
I chose to study at LUMS because it has a great reputation as a top UK management school bringing together a variety of business-related subjects under one roof. The university allows the flexibility to study minor modules within the department or others, giving you access to different perspectives and skills. The economics department also allows a great range of modules to be studied at undergraduate level, including health economics, industrial organisation, game theory and many more. I also really appreciated that it has a fantastic careers service in-house, so as well as accessing the university careers service, I could also receive advice specific to careers related to my degree subject.
What was the best thing about your course?
The best thing about my course has to be the flexibility. I could choose from a range of economics modules, and supplement these with a minor subject. I chose my minor as human geography and continued this through to third year. I chose modules that overlapped with economics, helping me to understand different perspectives and develop critical thinking skills. In third year, I particularly enjoyed economics modules such as health and labour economics, and also had the chance to study advanced modules, including advanced macro and microeconomics. I appreciate how the course overall helped me to develop key skills such as data analysis, communicating complex ideas, essay writing, and more. These skills are vital for the work I do today as a government economist.
What/who inspired you most at LUMS and why?
I was inspired to pursue a career in the Civil Service by a number of careers events and talks by LUMS alumni, as well as advice from the economics careers advisor Sophia Wu. Hearing about the projects alumni were now working on as government economists helped me realise that was the career path I wanted to pursue and inspired me to apply for those opportunities.
Did you do a project, placement or study abroad? What did this involve and what did you gain?
I did a number of essays, presentations and quantitative projects over the course of my degree, all of which have helped develop skills I use in my current work. One big project I did that was worth 100% of the module was in the third-year geography module, Climate and Society. Here I brought together the economics and geography knowledge I gained during my degree to write a proposal for aviation taxes as a climate solution. I did quantitative analysis to support the proposal, as well as a review of the literature. This has been particularly helpful given one project I am currently working on as government economist is a review of the economics literature related to my policy area.
Describe your time at LUMS in three words.
Rewarding, confidence-building, challenging.
What are your best memories of your time at Lancaster?
My best memories of Lancaster are those shared with new friends. For example, in my first year, Pendle College organised a night out in Manchester where my flatmates and I could go into the city and some bars and clubs with travel on the coach organised for us. Similarly, exploring the Lake District with flatmates was a great memory. Freshers' week and extravs (the big end-of-year college party) are also always a highlight!
What are the best things about living in the Lancaster area?
Lancaster is a small city that quickly feels like home. As it's such a student city, you're never too far from your friends, or studenty things to do. Having a club run for students, the Sugarhouse, makes it a safer place to go out on a Friday night. I particularly like the sites of the castle and Williamson Park, which are great to show friends and family when they come to visit! Also, you're not too far from other cities like Manchester, Liverpool and even London is only 2 and a half hours away.
Which parts of the Lancaster experience were the best preparation for your job?
In my job I need to apply economic theory to policy problems, analyse data and communicate this analysis simply to policy colleagues that don't have an economics background. My degree was great preparation for this, as I developed many of these skills during projects, presentations and essays. Modules including econometrics, health economics and labour economics were particularly useful for thinking about policy challenges and how economists can provide analytical support for government intervention. More broadly, taking a number of jobs at LUMS including a Student Ambassador and Mentor helped me develop confidence and better communication skills.
What impact has your Lancaster experience had on your career?
At Lancaster I participated in Online Policy School, a programme run by the university in partnership with HM Government. Here I gained insight into what the civil service does, how to write policy proposals and how to get into the civil service. This experience was integral to my decision to pursue a career in government.