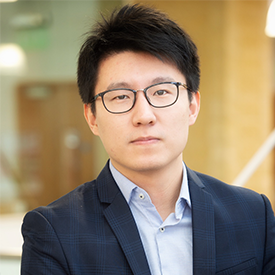 Bowen Lou
Country Of Origin: China
Degree: PhD Management, 2021
---
Lecturer in Strategic Management, Lancaster University Management School
---
Why did you choose to undertake your PhD at LUMS?
The PhD programme at LUMS equipped me with all the essential knowledge and skills to become a great researcher in my field. First of all, there is a perfect match between my research interests and my supervisors' expertise. Professor Duncan Angwin, Professor Ioannis Thanos and Professor Florian Bauer helped me shape my research interests and guided me through my whole PhD journey with their greatest expertise.
Second, the excellent research culture at LUMS and the Department of Entrepreneurship and Strategy motivated me to constantly reflect upon my research ideas and engage in invaluable discussions with academic staff and my PhD peers.
Last but not least, the research seminars, training programmes and mentorship scheme gave me great opportunities to expand my research horizons theoretically and methodologically with everyone's support.
What was the focus of your doctoral research?
My research focuses on strategic decision making (SDM). I am especially interested in different processes in which upper echelons (e.g. CEO and top managers team) make strategic decisions, such as rationality, intuition and political behaviour. My research also tries to examine the cognitive, behavioural and psychological mechanisms that underline the SDM processes, such as mental model, behavioural integration and transactive memory system (TMS). Currently, I am investigating a particular complex and rare strategic decision, i.e. Mergers and Acquisitions (M&A), from SDM and upper-echelon perspectives.
How did you benefit from the research training offered at LUMS?
LUMS gave some amazing opportunities to help doctoral researchers strengthen their research methodology in their own domains, including both quantitative and qualitative methods.
What/Who inspired you most at LUMS and why?
My sincere gratitude goes to my supervisors, Professor Duncan Angwin, Professor Ioannis Thanos and Professor Florian Bauer, who inspired my research ideas with their great knowledge and expertise. They were also my mentor who helped me deal with some issues I faced throughout my PhD journey, such as the balance between research and teaching. My gratitude also goes to my colleagues, Dr Andreas Stroble and Dr Neil Shepherd. Without their sincere support, it would not have been possible for me to achieve this milestone.
Describe your time at LUMS in three words.
Supportive, inspiring, enjoyable.
What are your best memories of your time at Lancaster?
I had lots of great memories when walking along the beautiful Lancaster canal, exploring the historical Lancaster castle and having great fun in the Lake District. Of course, I enjoyed working as the GTA (Graduate Teaching Associate) while doing my PhD.
What are the best things about living in the Lancaster area?
I enjoyed the history, beautiful scenery, vibrant and safe Lancaster town, and surrounding areas.
What impact did scholarships or funding have on your degree experience?
My PhD studentship massively helped me focus on my PhD research, and motivated me to complete it in less than three years.
Which parts of your Lancaster experience were the best preparation for your job?
The diversity of research seminars and training programmes, and also the invaluable teaching experience.
What impact has your Lancaster experience had on your career?
The Lancaster experience massively helped me become an outstanding researcher and teacher.