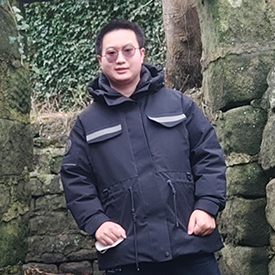 Songyang Liu
Country Of Origin: China
Degree: MSc Logistics and Supply Chain Management, 2022
---
Project Manager, The State-owned Assets Supervision and Administration Commission of Yuxi City.
---
Why did you choose to study at LUMS?
I learned before that compared with other universities, LUMS pays more attention to the growth of students and gives more feedback to students. This is what I think is the most important thing for studying.
What was the best thing about your course?
It must be the professors and lecturers, they have given me a lot of guidance, not only in learning but also in viewing the world.
What/who inspired you most at LUMS and why?
Professor Guglielmo Lulli inspires me the most. As a supervisor, he led me to challenge the academic frontiers and connect the results with solving real-world problems. Also, when I was overwhelmed by difficulties, he would invite us over for coffee and chat. Sometimes inspiration strikes like that, and then the problem is solved. This little thing touched me very much because I felt that I was cared for, and it also made me always full of courage for the future.
Did you do a project, placement or study abroad? What did this involve and what did you gain?
I made a lot of friends in the project, and their genius ideas opened my eyes. I gradually learned to think outside the box and it was an amazing experience!
Describe your time at LUMS in three words.
Amazing. Thought-provoking. Poetic.
What are your best memories of your time at Lancaster?
Take a walk around the campus with your classmates, and take pictures of the sunset and the herd of cattle.
What are the best things about living in the Lancaster area?
You can go to the Lake District on any weekend.
Which parts of your Lancaster experience were the best preparation for your job?
When I was trying to learn about the United Nations Sustainable Development Program, a deep impulse made me decide to go back to my hometown and do something to reduce poverty.
What impact has your Lancaster experience had on your career?
I will always remember the lesson Paul Blackwell taught me: always be 100% responsible for your work.