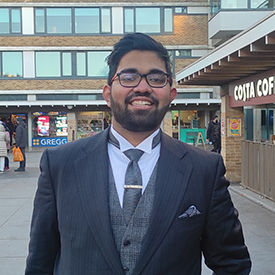 Eashwar Balaji
Country Of Origin: India
Degree: MSc Business Analytics, 2022
---
Data Analyst, Merseyrail Electrics
---
Why did you choose to study at LUMS?
I found that LUMS had the best selection of courses in analytics, which coincided with my area of interest. Another key factor in my decision to enroll in LUMS was its reputation, both nationally and internationally.
What was the best thing about your course?
The faculty, and the friends I made.
Did you do a project, placement or study abroad? What did this involve and what did you gain?
I did an industrial project with a luxury train service operator based in the UK. My project involved helping them build a forecasting model to increase their revenue. I gained a lot of interest in the field of railway and transport, which was partially the reason I chose to work full-time with a train service provider.
Describe your time at LUMS in three words.
Balanced. Fun. Irreplaceable.
What are your best memories of your time at Lancaster?
The friendships I made during this journey are phenomenal. I have plenty of lovely memories socialising with them. Apart from that, my dissertation project is something I really enjoyed working on, and will cherish the memories of working with a wonderful and dynamic supervisor and the industrial team.
What are the best things about living in the Lancaster area?
It's calm, fearless, friendly and supportive.
Which parts of your Lancaster experience were the best preparation for your job?
My industrial dissertation.
What impact has your Lancaster experience had on your career?
Lancaster helped me streamline the field that I am focusing on currently.