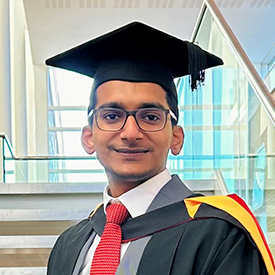 Pallav Shrivastava
Country Of Origin: India
Degree: MSc Business Analytics, 2022
---
Product Manager, Invisible Systems
---
Why did you choose to study at LUMS?
LUMS always had my precedence because of its accreditations, state-of-the-art infrastructure, notable professors and academics, and highly successful alumni network
What was the best thing about your course?
Business Analytics is one of the most demanding career aspirations in the existing industry setup and requires high-class expertise in Descriptive, Diagnostic, Predictive and Prescriptive Analytics. The course structure of MSc Business Analytics at LUMS not only provides for a well-balanced module distribution but regular work on real-time industry data enhances and prepares students for high proficiency in handling complex situations.
What/Who inspired you the most at LUMS and why?
LUMS is one the most renowned business schools across the globe. Most of the LUMS alumni are well-placed in their careers. The research papers published by LUMS are always reflected in important international journals and dailies. Learning from professors who are pioneers in their field was a dream come true at LUMS.
Did you do a project, placement or study abroad? What did this involve and what did you gain?
As a part of my industry dissertation, I worked with Hilti on the improvement of seasonality detection by performing different statistical tests on real industry data. This not only served as a viaduct between academic knowledge I gained during the course and how things work in an industrial setup, but also helped me realise how important it is to understand the core of the subject to be a seasoned professional in career progression. Along with learning applications of Business Analytics, I gained vital exposure to stakeholder management, corporate storytelling, meeting client expectations, and working under strict deadlines.
Describe your time at LUMS in three words.
Merrymaking, enlightening, worthwhile.
What are your best memories of your time at Lancaster?
Lancaster University is a place where diversity is not only accepted but also celebrated. Students coming from different countries, continents, racial backgrounds, socio-economic milieus, come together to learn, prosper and grow together. I enjoyed making friends from different parts of the world, learning about their culture, teaching them ours, celebrating different festivals, and enjoying world cuisines.
What are the best things about living in the Lancaster area?
Lancaster is a beautiful, historic, and student-friendly city, situated at the heart of the UK. Well connected via rail, road and close to Manchester Airport. Everyone around the place is appreciative towards the students of Lancaster University. I often enjoyed going to Williamson Park, it is equally good during all seasons.
What impact did scholarships or funding have on your degree experience?
The departmental scholarship towards my tuition fee for having an exceptional background helped me to not give up on my dreams because of financial constraints. It actually served as one of the deciding factors whilst making a decision of pursuing higher education. It significantly reduced the burden of hefty financial investment so that I can completely concentrate on my education.
Which parts of your Lancaster experience were the best preparation for your job?
I believe from day one at Lancaster, my training started as an individual with high-value professional acumen. LUMS taught me the importance of holistic development. To pick one, the industrial dissertation really helped me to gain exposure and a gateway to the UK job market.
What impact has your Lancaster experience had on your career?
To that extent that I can claim, "I am what I am today because of my education at Lancaster"