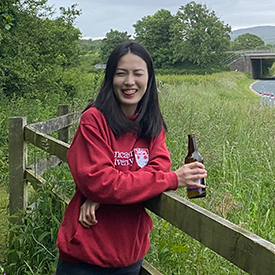 Shuting Jiang
Country Of Origin: China
Degree: MSc Digital Business, Innovation and Management, 2022
---
Business Development Representative, Amazon Web Services
---
Why did you choose to study at LUMS?
Because I found the subject which fits perfectly to the pursuit of my career, and I really enjoy the well-structured support LUMS provides (An internal Careers Service to find internships and even full-time jobs, workshops, events...) There are so many things one can exploit to make full use of the year!
What was the best thing about your course?
The best thing about my course is definitely the combination of practice and theory. Guest speaker sessions and hands-on workshops allowed me to understand how theories taught can really be applied in real life and make a difference in things.
Who inspired you most at LUMS and why?
My supervisor really inspired me and pushed me the extra mile when I was working on my consultancy project. I still benefit from this in my job, because he is not simply a good supervisor, but also influenced me with his way to look at things through a totally different lens.
Did you do a project, placement or study abroad? What did this involve and what did you gain?
I did a consultancy project as part of my Master's degree and it was the highlight of the whole program. Not only did I have the chance to work with professionals in a real-life setting, but also to apply things I've learned throughout 3 semesters to real-life scenarios and see how they could make a positive impact on people's lives. I definitely further strengthened my communication skills and time-management skills.
Describe your time at LUMS in three words.
Fulfilling, thrilling, fun!
What are your best memories of your time at Lancaster?
The time with my peers in our program was definitely something I still miss from time to time. I really got to know some really bright minds and souls. People in my program were all supportive, friendly, and diligent. I also really miss the days and nights when I spent time working on my internship besides studying. It was intensive, and busy, but really fulfilling.
What are the best things about living in the Lancaster area?
There are just so many things you can explore. Even though Lancaster is not big, you always can find some surprises if you keep your eyes open. Grocery shops and supermarkets are within walking distance if you live in town. Overall, it was a really nice and cozy home from home for me.
What impact has your Lancaster experience had on your career?
I landed my job through a daily email notification sent by the LUMS Careers Service. There was a virtual event being advertised in that email and that's where the exciting journey to Amazon Web Services started.