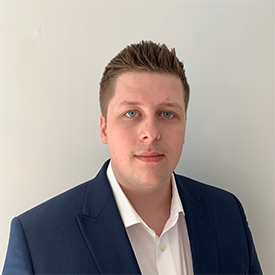 Christian Beeston
Country Of Origin: United Kingdom
Degree: MSc Management, 2022
---
Graduate Commercial Surveyor, Fisher German
---
Why did you choose to study at LUMS?
I chose to study at LUMS because I wanted a commercially focused qualification to transition into a commercial real estate role.
What was the best thing about your course?
The best thing about my course was the diverse range of content covered and the dedicated careers team which provided a complete experience.
What/who inspired you most at LUMS and why?
I was inspired by my programme director, Dr Ruilin Zhu, because of his continued support in developing my academic ability but also my way of thinking about and approaching business.
Did you do a project, placement or study abroad? What did this involve and what did you gain?
I undertook a consultancy project for my dissertation, this involved consulting with a luxury hotel in Cumbria on their business strategy along with a group of fellow students. This project was an excellent opportunity to work with a real business and gain insight into consultancy-based working.
Describe your time at LUMS in three words.
Exemplary, diverse, unforgettable.
What are your best memories of your time at Lancaster?
Looking back at what I have achieved during my Masters at Lancaster, I was the Assistant Dean for Grizedale College, I achieved a distinction in MSc Management and I completed four internships during the year, one of which was with a local Lancaster company (Mighty House). However, my fondest memories are spending time with my friends in Graduate College and Grizedale bar sports.
What are the best things about living in the Lancaster area?
The vast range of countryside and wildlife which I have spent the better part of four years at Lancaster discovering. My personal favourite is the nature reserve near the canal.
What impact did scholarships or funding have on your degree experience?
I was fortunate enough to receive the High Potential Scholarship, the Alumni Scholarship and the Lancaster Management Scholarship. This had a huge impact on my degree experience as without these scholarships I would not have been able to fund the course. This allowed me the financial stability to undertake the course and achieve high results without financial stress.
Which parts of your Lancaster experience were the best preparation for your job?
The practical focused teaching of the course were great preparation for real world scenarios, particularly the consultancy project where I was able to work directly with a client.
What impact has your Lancaster experience had on your career?
The biggest impact Lancaster has had on my career is to think positively and aim high, with the right attitude anyone can be successful in their career.