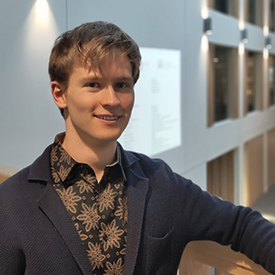 Alex Bonnard
Country Of Origin: United Kingdom
Degree: MSc Management, 2022
---
Business Graduate, Manufacturing Technology Centre
---
Why did you choose to study at LUMS?
I chose LUMS because I wished to make my future the best it could be. Being one of the leading business schools in the UK, LUMS is one of the finest institutions to equip me with the skills I need. LUMS staff are excellent teachers who provide quality, in-depth education. LUMS also provides plenty of fantastic opportunities for students to enhance their skills. Furthermore, LUMS is such a comfortable and supportive environment that it has made myself and many other people feel very welcome there.
What was the best thing about your course?
Working with an incredibly diverse group of people. In my class, we had so many different kinds of people that it was impossible for a stereotype of the class to form. We had a Thai aerospace engineer, a musician from Ecuador, an aspiring Chinese fashion designer, and so many other interesting and talented people. Throughout the course's engaging group activities, I was able to work and bond with these fantastic people. These experiences helped me to understand the different ways a problem can be interpreted and the variety of methods to solve them. This helped me develop both personally and professionally. To say I learned a lot from everyone would be an understatement and I hope they learned something from me.
What/who inspired you most at LUMS and why?
MSc Management had no shortage of inspiring people, whether they were the students I was studying alongside or the staff teaching us. If I had to choose one person I would say Dr Ruilin Zhu. An extremely intelligent man who cares immensely for his students, you see his passion on the first day, the last day, and everyday in-between. His energy, intelligence, and kindness inspired me to be the best version of myself.
Did you do a project, placement or study abroad? What did this involve and what did you gain?
I was fortunate enough to take part in an internship for a FinTech firm called ff. Next which is partnered with MSc Management. This involved me living in Budapest, Hungary for ten weeks whilst helping the firm analyse the latest trends in the FinTech market and co-authoring a book chapter on digital youth banking. Professionally, I gained critical work experience in a rapidly expanding and exciting industry. Exploring the beautiful city of Budapest was also a huge bonus!
Describe your time at LUMS in three words.
Passion, adaptability, and teamwork.
What are your best memories of your time at Lancaster?
One of my favourite moments would have to be the MiM Roundtable with Nigel Murray, the Managing Director of Booths. A MiM Roundtable is where guests, whether they are business leaders, entrepreneurs, or former students, are invited to tell students about their professional experiences. Mr Murray was kind enough to come in and talk to us about his journey, and the event has been firmly stuck in my mind ever since.
What are the best things about living in the Lancaster area?
Lancaster is a lovely area. The town itself possesses the cosiness which big cities lack, and has a variety of shops and other areas of interest to choose from. The outer area is beautiful and well worth exploring.
Which parts of your Lancaster experience were the best preparation for your job?
The intensity of the course helped me to handle the pace of my current job. Working with people from different academic and cultural backgrounds developed my communication skills which has been a huge asset in my current role.