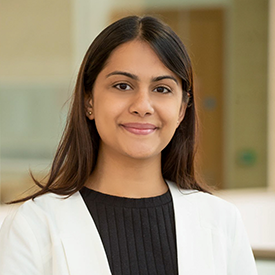 Harshil Boparai
Country Of Origin: India
Degree: MSc Management, 2022
---
Community Manager, The Alliance
---
Why did you choose to study at LUMS?
I chose to study at LUMS for its outstanding reputation, impressive rankings in league tables, comprehensive course offerings, and strong alumni network. Additionally, the university's emphasis on student well-being, sustainability, unique collegiate system, and lively community made it the perfect fit for me.
What was the best thing about your course?
The entrepreneurship module taught by Dr. Sharon was one of the highlights of this course. Her innovative and unconventional teaching style provided a unique and practical learning experience. Throughout the module, we covered topics such as establishing a business venture, acquiring funding, business model canvas, marketing strategies, and much more. The module's unique approach made us feel like we were in an actual bootcamp, collaborating with actual business partners, presenting our case.
What/who inspired you most at LUMS and why?
Without a doubt, Dr. Ruilin Zhu inspired me the most during my time at LUMS. His unwavering support, guidance, and mentorship were the distinguishing factors that elevated my LUMS experience from good to great. Dr. Ruilin provided me with numerous opportunities to refine my skills and abilities. Working alongside him as a research assistant was a remarkable learning experience that not only aided in my dissertation project but also paved the way for another research internship with a startup company called Core 360 in partnership with UnitePlus. Moreover, his guidance has been invaluable to my professional development.
Describe your time at LUMS in three words.
Memorable, incomparable, exciting.
What are your best memories of your time at Lancaster?
Working with Green Lancaster as a project supervisor under the leadership of Darren was one of my best memories at Lancaster. The plethora of opportunities, experiences, and learning developments I've had as part of this incredible organization has been life-changing. During our ECOWild trips, I had the opportunity to work closely with off-campus wildlife conservation organizations across the north of England. These experiences, along with the EcoWoods and Don't Ditch it projects, have greatly contributed to my understanding of social sustainability and the green economy. My most distinct and best memory will be of our Sustainability Leadership Development Residential on the Island of Eigg, off the West Coast of Scotland. As part of this, we explored today's great challenge of the Climate and Ecological Emergency through the prism of the island's unique natural heritage.
What are the best things about living in the Lancaster area?
In one word, living in the Lancaster area was 'peaceful'. The campus is surrounded by lush greenery, and the town is easily accessible, historic and close to larger cities like Manchester. The trim trail on campus was my personal favorite.
What impacts did scholarships or funding have on your degree experience?
I'm grateful to have received the High Potential Scholarship that greatly impacted my decision to pursue higher education abroad, and soon became one of the key deciding factors when choosing Lancaster.
Which parts of your Lancaster experience were the best preparation for your job?
Whether you're charting a new career path or seeking to elevate your current one, the Lancaster MIM program and their careers team offer exceptional support. The MIM Roundtable was a standout experience for me. These sessions gave us access to industry experts, seasoned professionals, and distinguished alumni. Notable speakers included former MP of the UK, Simon Danczuk; COO of Virgin Atlantic, Corner Koster; and Chief Content Officer at Manchester United, Ian Nolan. Their insights and advice were invaluable, providing us with not just the tools to prepare for jobs, but also to excel in our future careers.