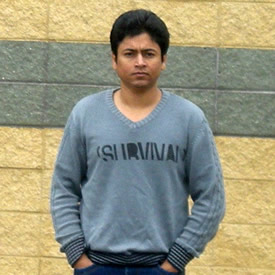 Ajay Kanwar
Country Of Origin: India
Degree: MSc Logistics and Supply Chain Management, 2009
---
Head of Analytics, Holisol Logistics Pvt Ltd
---
I chose to become a logistics and SCM consultant after working at SSL International plc – as part of my MSc programme at Lancaster. Before that I was uncertain about my career, but my experience at SSL International gave me a clear idea of what to do in my professional life.

My first degree was in Nautical Science from TS Chanakya College, which is part of Mumbai University. I chose to study at LUMS for my Masters because of its highly eminent lecturers and its safe environment. The School also has a world class reputation for operational research, of which my chosen MSc in Logistics and Supply Chain Management was a variant.

The tools and techniques we studied during the programme are in sync with what is being used in the industry. We read more research papers than books for each module, which apprised us about what was currently happening in each sector of the industry. The achievements of the lecturers, and the kind of research work they are involved in, makes teaching highly remarkable. I felt that in lectures I was hearing about the most recent developments. Today I can also say proudly that I studied Soft System Methodology (SSM) with the developer of this methodology, Professor Peter Checkland.

During the summer I did a four-month company project for SSL international plc which focused on redefining the company's supply chain. As part of this I developed a dynamic spreadsheet model for customer segmentation by applying multidimensional Pareto Analysis. The tool helps in segmenting more than 1300 products across 250 customers, based on sales, net value and gross margin. I also determined service levels per customer per product, using past year data to improve customer service levels, analysed customer orders, and recommended appropriate selling units to reduce operation costs.
The project also involved building a model to analyse direct/indirect customer delivery by order volume and gross margin. Using this model, small and unprofitable customers can be directed to third party distributors. I was able to provide recommendations which could save the company £50,000 per year in operating costs, and I received a letter of appreciation from company's head of commercial planning. I also pointed out data inconsistency within SAP which led to a new project to resolve this issue once and for all.
I am now employed as Head of Analytics for Holisol Logistics Pvt Ltd, where I analyse data from various companies to optimise their operations and suggest ways to reduce costs. My longer term ambition is to become a senior consultant in the logistics and supply chain domain.