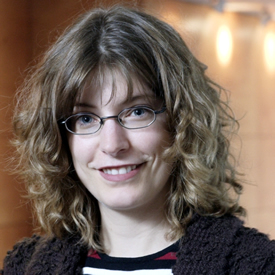 Sophie Tessier
Country Of Origin: Canada
Degree: PhD Accounting and Finance, 2013
---
Associate Professor, HEC Montréal
---
Before coming to LUMS, I was working as an accountant in the private sector in Canada. When I decided to leave the private sector to become an academic, my first decision was to go study in England to enjoy its beautiful countryside.
When looking for a university, what attracted me to LUMS was its New Route PhD programme. This programme combines the MRes, which provides research training, and the PhD. This New Route PhD allowed me to have synergy between the two degrees and provided me with the necessary research training I needed before starting my PhD (since I only had an undergraduate degree).
Choosing LUMS proved to be the right choice for me and this became obvious when I started my studies. I received tremendous support from my supervisors and joined a group of PhD students from all over the world (Portugal, China, and Malaysia to name but a few). This provided an exciting and stimulating environment for the research part of my life. Lancaster city provided the rest (culture, nature and friendship). I even met my life partner at LUMS!
I am back to my home town now, in Montreal. I work at HEC Montréal, the oldest business school in Canada, where I pursue my research in management control and teach management accounting. I consider the training I received at LUMS very valuable and very helpful for my present responsibilities.