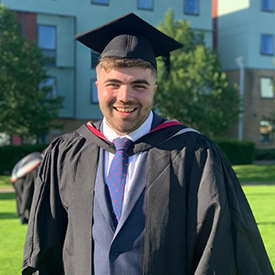 George Nagle
Country Of Origin: United Kingdom
Degree: BSc Business Management (Industry), 2023
---
ETO Vertical Markets Graduate, Samsung Electronics
---
Why did you choose to study at LUMS?
As a clearing student, I chose LUMS due to its high ranking. When I looked at the programme offered and the campus, I was sold.
What was the best thing about your course?
The course is similar to the structure of the MBA. Being able to study all aspects of the Management School to gather a holistic understanding of management before specialising in areas of interest.
What/who inspired you most at LUMS and why?
Some of the older students from my college initially inspired me, but the lecturers really helped me grow my passion. From Nicholas Alexander in my first year to Emre Tarim and Jenny Carter in my final year, post-placement.
Did you do a project, placement or study abroad? What did this involve and what did you gain?
I did a placement at Samsung Electronics UK as part of the product management team, helping to look after all things cold and dust-free with the Refrigeration and Vacuum teams. This involved everything in the product lifecycle from seeing concepts to aiding launches to managing relationships with major retailers and removing products from sale. It was an unbelievable experience where I really was part of the team, helping to make huge decisions and had significant responsibilities. I would highly recommend you take a placement year if you can because you develop so much professionally but also personally too!
Describe your time at LUMS in three words.
Intriguing, challenging, rewarding.
What are your best memories of your time at Lancaster?
Some of my best memories come from taking on additional responsibilities at the university. Being a LUMS ambassador was really rewarding, helping out prospective students but also being part of the Students' Union events team, where I helped put on university-wide events. Also, I was massively involved in my college, having worked up the ranks to graduating as president of Lonsdale JCR. I also took part in college football and bar sports. Here I made some of the best memories and mates throughout my four years.
What are the best things about living in the Lancaster area?
You know what you get with Lancaster. It's a university town that's very safe, with a selection of places to go out in the day and night. Renting off-campus is pretty cheap and value for money and the local area is stunning, especially if you want to head up to the Lakes.
Which parts of your Lancaster experience were the best preparation for your job?
I'd say definitely my placement year was really helpful and the relevant modules helped me reflect on how I'd developed. My extracurricular roles on the JCR and committees as well as part-time jobs really helped too with managing my time and developing crucial soft skills.
What impact has your Lancaster experience had on your career?
It's really allowed me to develop a holistic skillset and fill my CV with a load of crucial experience. All of which helped me get through a lot of interview processes and spark interesting conversations with interviewers about what I've been able to get up to alongside my degree. It also allowed me to gain a placement and graduate role at one of the best companies in the world in a rapidly growing industry.
Is there anything else about your LUMS experience that you'd like to share with us?
My advice is to make the most of your experience. So many people just get their bog-standard degree and don't really explore. There are so many opportunities in LUMS to take on and tailor your experience to what you want to learn and develop. Whether that's specific modules or additional roles, don't be afraid to challenge yourself and make the most of it!