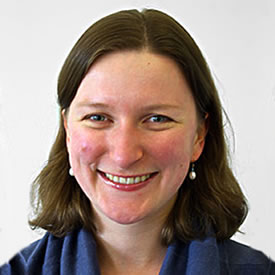 Alexandra Bristow
Country Of Origin: Russia
Degree: PhD Organisation, Work & Technology, 2008
---
Lecturer in Organisational Behaviour, University of Surrey
---
In this interview, doctoral student Alexandra Bristow, who began her PhD at LUMS in 2002 and is originally from Russia, talks about the research environment for PhD students at Lancaster University Management School.
Since the interview was recorded, Alexandra has completed her PhD and now works at the University of Surrey.
Why did you choose to take your degree at LUMS?
I did my MA here last year and they offered me two scholarships to stay, and some teaching to do as well - on the undergraduate courses - and also they have just been really, really persuasive, and the quality of the research here is wonderful, so that's why.
Can you comment on your experience of the programme so far?
It's been quite challenging in some ways, but also very fulfilling in others. I expected it to be a centre for excellence in research, and it is. The people here are really top in their areas. In one sense it's really challenging to rise to that level, but in another sense it's very rewarding. Lancaster's very international and also it's very collegiate, so it's very easy to make friends. As to the balance between social life and studying, you have to be very careful as a PhD student as there are lots of things to do around here, and obviously you are managing your time yourself: that concerns both your studying time and your social time. So yes, that's another challenge I guess - but a positive one.
What has been the most enjoyable aspect of studying here?
It's difficult to say, because there are a couple of positive aspects, but one has definitely been the intellectual community - the quality of the intellectual community - you really feel that you have to grow, and you want to grow in all aspects of your intellectual life. But also, as I said, there are so many things to do around here, it's so easy to make friends - so you never feel lonely. It's sometimes challenging to try to rise to the level of the quality of the people around you - members of staff and other PhD students. So at times, you really feel like you have to work hard, but I guess that's what being a PhD student is all about. It's one of the hardest tests you are going to pass. It's a test of how you can cope with managing your freedom - because there is so much freedom as a PhD student; and it's also a test of your intellectual ability as well.
Also, I'd like to say that the area around Lancaster is absolutely beautiful. You're surrounded by some of the most beautiful areas in this country: the Lake District, and the Yorkshire Dales; the Trough of Bowland, and Morecambe Bay. There are just so many places to go and explore. So that's another positive aspect of it I guess.
Alex completed her PhD in 2008, and now teaches and researches organisation behaviour at the University of Surrey.