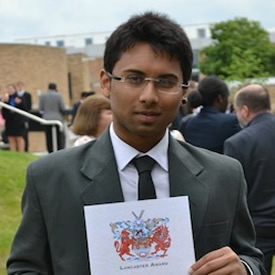 Akshay Goenka
Country Of Origin: India
Degree: MSc Advanced Marketing Management, 2012
---
Head of Marketing, National Indian Students Union
---
The Advanced Marketing Management MSc at Lancaster University has been a turning point in my academic life and contributed towards my personal development. It assisted me in creating a career path in marketing and helped me determine which area I want to specialise in.
Prior to my Masters at Lancaster University, I graduated with a first-class honours degree in Business Administration (BBA), from Jadavpur University in Kolkata, India. After graduating, I joined a local firm called DHS Lasers and was directly involved in market research, strategy development, sales, customer relationship management and marketing communications. However, I soon realised that marketing was not only an application of theory into practice but a lot more than that. Hence, I decided to study for a Masters in marketing abroad.
Having decided that I wanted to continue my studies in the UK, I conducted a lot of research into choosing the right university. I had a personal inclination towards Lancaster because of its high ranking in marketing, triple accreditation, straight entry to do a diploma in marketing from the Chartered Institute of Marketing (CIM) and overall international reputation.
I was very keen on studying the MSc Advanced Marketing Management because of its programme content, structure and recognition from Microsoft. I was fortunate to receive an offer for this particular programme and accepted it straight away. I was also granted a scholarship of £2000.
I found the MSc in Advanced Marketing Management programme unique not only in terms of its content but also the way it was structured and taught. There was a very practical approach to teaching, relying on practice-based case studies that helped me learn real marketing skills. I learned how to think critically, challenge different perspectives and build strong arguments. Another striking feature of the course was its reliance on collaborative working and group projects and I really enjoyed working with people from different backgrounds and cultures.
Aside from academic life, I was actively involved in volunteering for Lancaster University Students Union and Green Lancaster. In June I was rewarded the Lancaster Award 2012 for successfully completing different activities across four different sectors. I was a full-time member of Lancaster University Indian Society and helped organise many events.
I successfully completed two marketing projects for Unite with Business. In my first project, I worked as a marketing consultant for three months with a client based in Lancaster University, and in the second project, I worked as a marketing and social media assistant for four months with a client based in Preston. These projects gave me significant experience and exposure to real-life marketing practices in the UK, giving a push to my CV and giving me an edge over others. I was also fortunate enough to secure a position at the London Olympics and Paralympics Games 2012 which was a brilliant, once-in-a-lifetime, experience.
After I finished my MSc I worked as a Marketing and Business Development Consultant for Green Close Studios Ltd, based in Lancashire. The MSc in Advanced Marketing Management certainly did help to develop my career path in marketing, not only in terms of knowledge, skills and attributes but also in building effective and efficient relationships and growing my networks, which I believe is crucial in the marketing world.
I am very happy that I decided to study my Masters at Lancaster University as it certainly has helped me to reach where I am today. To anyone wishing to pursue their careers in marketing, I strongly recommend the MSc in Advanced Marketing Management programme at Lancaster University.