MSc Advanced Marketing Management celebrates 10-year Microsoft collaboration

15 October 2014
Since it launched 10 years ago, Lancaster's MSc in Advanced Marketing Management has forged a close and mutually beneficial partnership with Microsoft, and especially with senior executive Dr Andrew Hawkins.
Over the last 10 years many students have carried out summer projects for Microsoft, with Dr Hawkins and colleagues as clients.
These projects have involved teams of Advanced Marketing Management MSc students working with Microsoft global teams covering regions from East Asia to South America, with topics mainly concerned with the public sector. With Microsoft's global reach and the diversity of the MSc class, most of the projects have matched topics and geographies with students' linguistic and cultural backgrounds. After 10 years of collaboration, former MSc students have now completed over 40 Microsoft projects.
Professor Luis Araujo, who has worked with Dr Hawkins from the beginning of the MSc, reflects on a decade of close cooperation:
"We started our collaboration with small steps and without a set agenda. But we soon found out how much our students valued this relationship and how useful their work could be for Microsoft.
"After a decade, we can safely say that we have created a strong bond between the Marketing Department and Microsoft. Our alumni have been the beneficiaries and have become the most enthusiastic ambassadors for this partnership."
Dr Hawkins said:
"On behalf of Microsoft, I am delighted to have partnered with Lancaster University. I am honoured to have worked with such a leading Management School team with its exceptional lecturing staff and to have met such a diverse community of international students on the MSc in Advanced Marketing Management.
"Over this period, both academia and industry have worked together to produce in-depth and professional research which has helped Microsoft develop specific public-sector strategies and execute impactful sales and marketing initiatives in support of our business in various geographies and public-sector verticals around the world.
"I would like to take this opportunity to thank LUMS and the many students who have worked on Microsoft projects. Looking forward, I know that many more students will be fortunate to select Lancaster University and join their alumni, who are already are making good use of what they have learnt in their studies and are now embarking on successful careers themselves."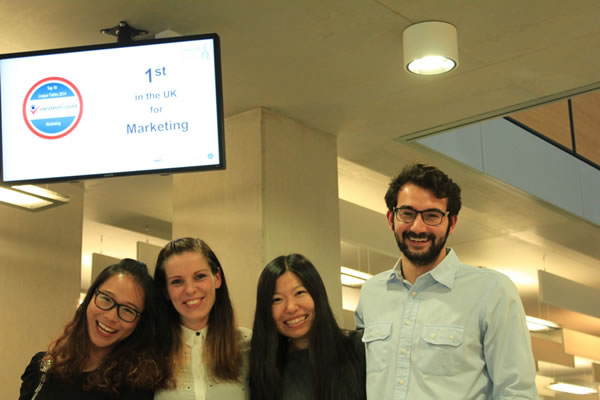 The 2013 project team after completing their presentation to a team of Microsoft senior executives scattered around the globe, using Microsoft Lync technology. Yiting Fang, Heidrun Thrainsdottir, Yue Yang and Pedro Saramago.