Sue Anderson
Sue Anderson from Pendle Doors has been inspired by a consultancy challenge involving one of the world's leading creative agencies. Sue, who joined the Entrepreneur in Residence community in 2013, wanted to give something back to the University after witnessing the strong support her daughter had received as a student with Lancaster University Management School.
Sue leads a family business which has grown from three to 32 employees over the last 20 years. The development of Pendle Doors, a manufacturer of fire doors and door sets, has greatly benefitted from her engagement with the school, its members and students.
Through talking to students and her fellow EIRs, Sue has been able to reflect on her own practice as an entrepreneur whilst receiving invaluable unbiased, outside feedback on her business. Overall, the experience of becoming an EIR has been unquestionably positive for Sue and her business.
In 2014, Sue participated in the Consultancy Challenge programme which took place partly at Saatchi & Saatchi, London, and here at Lancaster University. The programme provided our EIRs with the chance to gain insight into the innovative thinking behind one of the world's leading agencies and, in many cases, gave helpful tips and ideas for strategic changes that could be applied to their businesses. It was CEO Kevin Robert's presentation that would change the way Pendle Doors operates. Sue went away with several creative thinking techniques, such as role play and blue sky thinking, as well as the idea to implement a 90 days planning horizon to help make her company more efficient.
Sue enjoys access to a network of like-minded business leaders through being a member of the Entrepreneur in Residence community. She enjoys the opportunity to share advice on issues that are familiar to entrepreneurs across a wide range of different businesses.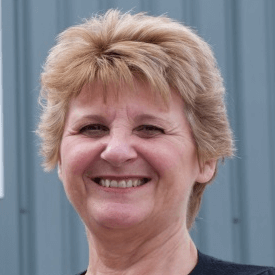 Renwick Brutus (International EIR)
Renwick Brutus joined the Entrepreneur in Residence (EIR) community in 2017 on the encouragement of his colleague Joseph Horak, PhD, another EIR and Honorary Teaching Fellow at Lancaster University. Renwick has always asked questions of acquaintances and leaders in every area of his life. It is this relentless curiosity that has inspired him to develop a personal philosophy that involves "living well while helping others do the same."
After serving as a Research Economist where he explored ways to further economic development at a macro level, he pursued understanding the many ways in which sustainable economic growth might occur at the level of communities, households and individuals.
Renwick believed that if he were to truly understand that process he should engage personally in testing and validating his entrepreneurial premises. His preferred approach was to start with a little and hopefully, create a lot. That's because his interest has been to empower entrepreneurs. In pursuit of that objective, he has consistently unlocked the synergies between what he knew, who he knew, and the urgent needs and desires of various market segments.
He has monetized problem-solving by building businesses in the disciplines of performance improvement, indoor environmental health and wealth management. He continues to provide strategic leadership to those enterprises, Achievement Resources, Universal Decontamination Services (UDECON) and Prism Wealth Management.
In his view, Lancaster University and the Entrepreneur in Residence community provide an excellent platform for helping further their mutual objective of accelerating entrepreneurial success. The opportunity to inspire, inform and support students and entrepreneurs in many parts of the world holds great appeal.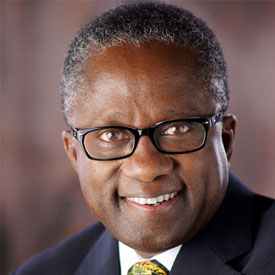 Jane Dalton
Having been away from academic institutions for a few years, Jane Dalton has enjoyed staying in touch with the latest updates in business theory as an Entrepreneur in Residence at Lancaster University. She is always fascinated to see how key concepts continue to evolve over time.
"The most interesting part of being an EIR has been seeing how each new cohort of students responds to concepts like innovation and creativity.
Exploratory thinking is a much needed component of entrepreneurship, alongside critical thinking and data analysis. It's really rewarding to be part of the process of challenging students to move outside the accepted 'rules of business', to expand their field of view."
Jane continues to work closely with Lancaster University to understand the impact of workplace gender diversity on company decision making and social impact, as part of her volunteer role for Northern Power Women.
Brian Gregory
Brian Gregory has been an Entrepreneur in Residence at Lancaster University for many years. One of the things he finds most valuable about his role is the opportunity to interact with entrepreneurship students. Brian finds teaching students a rewarding undertaking that allows him to pass on his years of knowledge of the outside world of business to students who have little or no hands on experience to relate to.
"Business to be taught well needs to be done so in the round, with both theory and practice", Brian states, as he sums up his motivation. He enjoys helping students to make sense of the theory of business and cherishes the moment when they start to understand what they are learning.
Brian has been at the forefront of an innovative new teaching model that sees entrepreneurs co-create learning events in collaboration with module tutors. He recently delivered his first complete lecture, bridging practice and theory, for which he received ovations from attending students.
He takes inspiration for teaching from the experience of setting up his own business 14 years ago. Safety Management UK's growth is undeniable; it is now the largest provider of fire risk assessment software in the UK.
Brian is a staunch supporter of the work done by the University's Department of Entrepreneurship and Strategy, and he has attended a variety of meetings with external stakeholders, such as the Employee Engagement Taskforce. As well as bridging the relevance gap between theory and practice, Brian wants to provide a practical interface between the University and Small Businesses.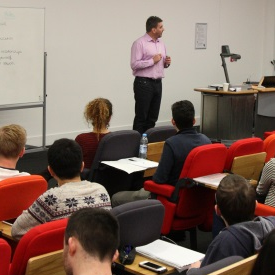 Gill Hall
Being an Entrepreneur in Residence with Lancaster University Management School (LUMS) has helped Gill Hall to reflect on her business strategy and personnel. For Gill, being an EIR has shaped her personality as a business leader and given her ways to improve the structure of her business, Butlers Farmhouse Cheeses. Gill has always found that emotional support is as important to her as the application of practical tools and in her years as an EIR she has seen both become available to her through executive education offered by LUMS.
Gill has taken part in several of the programmes on offer such as LEAD to Innovate (L2i) and GOLD. Furthermore, she has been a regular attendee of the Masterclass series and has spent time teaching entrepreneurship students.
Being part of the network of entrepreneurs, with the opportunity to share issues and experiences, has helped Gill to develop the confidence required to make her business more robust. Gill also cites the exposure to relevant and applicable insights during masterclasses as a benefit to being an EIR and a helpful reference point when her business comes under pressure.
During her time working closely with the University, Gill has met peers with "infectious enthusiasm" for the power of small businesses and has learned about LEAN manufacturing, which she has embraced and successfully implemented at Butlers Farmhouse Cheeses.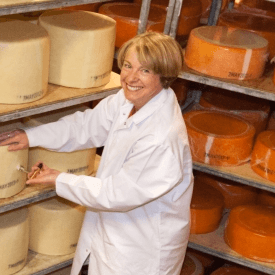 Anshul Kapoor
Anshul Kapoor first began his association with Lancaster University back in 2014 when he attended the Lead 2 Innovate programme. This was the first kind of business-focussed programme he had attended and he found it to be a highly informative and worthwhile experience. Over the following 4 years, following completion of the course, his business, Image Foundry, which he co-founded in 2001, went on to achieve impressive growth. Soon after graduating the programme, Anshul was asked to join the EIR programme, working with and mentoring students.
This was an eye-opening experience for him. The mantra of 'nothing is impossible' rang true for virtually every student he met and talked to about his or her business ideas. The students' ideas and their conviction to succeed was truly inspiring. For every reason given for them not to pursue an idea, they had ten other reasons why they should. This kind of creativity is often 'beaten' out of people in the business world and it reminds us that very often, before success, there is failure and its OK to fail as long as you reflect and take lessons from it.
The additional ad hoc courses provided by the University are excellent, as are the talks with high profile people from the business world who are happy to share their life lessons and experience. All of these aim to help think about your business in a different way and to remain innovative in everything that you do.
To this day Anshul remains proud of his association with Lancaster University and hopes that this will continue long into the future.