Business Excellence
A range of short programmes to help Lancashire SMEs to innovate, develop and grow.
About the Programme
Lancaster University Management School has developed a range of programmes to be delivered over 2022.
Pricing with Purpose: starts 29th September
Ideas into Action: starts 8th November
Each face-to-face programme will include workshops on two separate days, which are purposefully designed to be short, practical and impactful.
All programmes are fully-funded for eligible small and medium-sized (SME) businesses, and are designed to tackle issues that often present barriers to business growth.
These workshops are delivered in a safe and trusted peer-learning environment and designed to be highly interactive and create meaningful relationships to support you with moving your business forward.
Supported by Boost; Lancashire's business growth hub.
Register your interest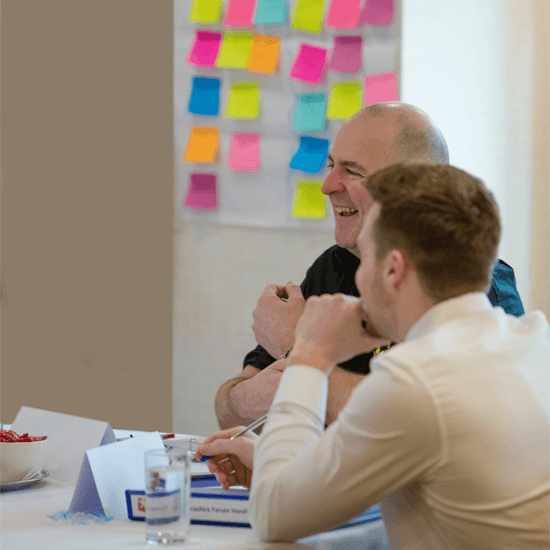 Pricing with Purpose
Profitable pricing trumps cost cutting every time, yet in times of profit squeeze we always reach for the cost cutting trigger.
Materials inflation, wage inflation, distribution and shipping inflation, fuel inflation are all pushing companies towards the implementation of price increases, but many have never implemented a price increase or when they do it is laden with fear and trepidation.
Pricing the third business skill; first create a great product, second sell that product brilliantly, third price it superbly.
Programme starts: 29th September & 6th October
Enquire now for Pricing with Purpose
Pricing with Purpose takes an organisation from the perceived enforced need to make price increases to the effective implementation of new optimum pricing across its markets.
This programme will be delivered in-person over two sessions including the following content:
The third business skill: This workshop will introduce delegates to the history of pricing and review the current climate and what this means for businesses. Delegates will review barriers, how to deliver high impact and the most effective strategies for productivity and profitability.
Best practice laid bare: Explore the different types of pricing strategy, what strategies can work the best for your business and how they tie back to your business model, purpose and financial targets. Delegates will analyse current processes and explore accountability.
Marketing and implementation: This workshop will look at the psychology of pricing and using it to effectively communicate, market and implement new optimum pricing strategies across your markets.
Workshop locations to be confirmed.
Ideas into Action
This programme will allow you to take the time to work 'on' your business rather than 'in' your business.
It will lead you through a step-by-step process to analyse and test idea potential and then look at significant 'power moves' to progress innovation to give you the clarity, focus and breakthrough you need to take action to innovate, develop and grow your business.
Programme dates: 8th & 22nd November
Enquire now for Ideas into Action
Explore and prioritise a range of ideas to take your business to the next level of sustainable, profitable growth
Apply assumption-testing and decision-making techniques to identify potential routes to commercialise your ideas using input from your peer-learning group
Start to shape the core of the business plan and roadmap to get your idea off the ground
This programme will be delivered in-person over two sessions including the following content:
Idea development: This workshop begins with an overview of the innovation process, from idea to commercialisation. You will be introduced to the "power moves" principle that will underpin this programme. Receive peer feedback to help select your most promising ideas, and using tools presented in the workshop you will begin to develop those ideas.
Minimise risk, move faster, spend less: Review how you might test your ideas quickly and effectively to accelerate your progress and create a Minimal Viable Product outline for your idea, ready for testing. Carry out surface and test assumptions about your ideas. Get fresh perspectives from your peers and draw out the 'known unknowns' and identify actions to test your idea in reality. Work through a step-by-step process to help with innovation decision making and shape the headlines of your business case.
Make your ideas happen: Work with your peers to review the key barriers in the way and factors to accelerate innovation and create an action plan. Identify actions that will make significant impact to your innovation process and create an innovation roadmap to build clarity and momentum.
Workshop locations to be confirmed.
Redolution
Alison Grady - Redolution
"To put it simply, we were better able to navigate covid because of the Lancashire Forum. It made us look completely differently at our business."
"It's very easy to have your head down in your own business but the peer-support network, and sessions with academics and business leaders, make you consider what's going on in the wider world and how you can use it to your advantage."
Read more "Our long-standing relationship with SMEs means we get to hear first-hand the pressing issues that are most affecting firms, and now most businesses are back operating 'as normal', some are facing the challenges of changing consumer demands, issues with supply and rising costs – all of which can present barriers for businesses hungry for growth." Alex Errington, Senior Project Manager
The Benefits
LUMS Business Excellence programmes are designed to help Lancashire based SMEs to take the time out of their business to work on the business and to build a business that focusses on both profit and purpose. Two days of delivery enables high business impact and will enable you to take your business to the next level. Innovate, develop & grow.
Costs & Apply
This programme is fully funded and available to businesses which are eligible under the European Regional Development Fund (ERDF) criteria, as follows:
Based in Lancashire
Employ between 2 and 250 full-time equivalent (FTE) employees
Annual turnover of less than €50 million (or the equivalent in GBP)
Received less than €200,000 of de minimis State Aid in the last 3 years
To discover more about the programme or to apply, please get in touch with us.
Find out more about how and why Lancaster University and our funding bodies holds your information.