Evolve Digital NW
Exploring the potential of digital adoption for family business leaders
About the Programme
Evolve Digital is designed for leaders of small Family Businesses seeking to explore how digital technology can enhance their business to improve productivity and create a sustainable future. This online programme provides business leaders with the leadership capabilities required to explore the potential that new technologies may bring to their business, to remain competitive and meet the needs of the next generation.
The programme will be delivered online (approx 10-12 hours per month for 3 months) and will provide you with the tools to:
Create a strategy to future proof your business
Prioritise areas where digital technology can transform your business
Undertake a project in your own business, to test out new digital ideas and accelerate digital adoption
Gain leadership skills and confidence to drive change and create competitive advantage
This programme forms part of a national research study which will inform evolving UK government policy on the needs of small family businesses. Designed and delivered by Lancaster University Management School and fully-funded by Innovate UK and Department of Business, Energy and Industrial Strategy (BEIS).
Final cohort start date: 11th May 2021
Register Interest Here or Apply Now What's Involved?
Successful applicants will be randomly allocated to one of two offerings. Business leaders will either take part in an online interactive cohort, where they will benefit from being part of a peer learning group with sessions led by business experts or they will have access to an online platform which hosts a series of practical materials, including toolkits, relevant articles and other information, which take them through a self-directed learning journey to evolve their business.
Setting the strategic context
Explore technological / digital futures and identify your current business direction towards digital technology. Develop strategic objectives to drive digitalisation for your business
Identifying digitalisation opportunities
Establish where value is lost in the business and identify where digitalisation can enhance and add value
Digitalisation in action
Develop a sprint project to test ideas and break down barriers to adopt digital technology in the business
Leading towards technological change
Develop a change management framework to engage staff in implementing digitalisation Benefits to Business
Practical content delivered online (approx 10-12 hours per month for 3 months), designed by leading academics and business experts
Develop your leadership capability to ensure your family business evolves and is future proofed for the next generation
Identify where digital technology will evolve your business to be more productive
Increase your confidence to make better business decisions and improve your competitiveness
Help inform evolving government policy on the needs of small family businesses
Organic growth: How Evolve Digital is taking a Cumbria health and well-being business to the next level
When Tracey Lindsay, founder of Manor Barn Organics, made the dramatic career change from engineer to aromatherapist, she had imagined spending her days treating clients with her own, homemade products.
However, as the pandemic hit, Tracey found herself turning her attention entirely to producing and selling her range of organic soaps, bath salts, candles and other aromatherapy-based products, from her home in Wigton, Cumbria.
Manor Barn Organics is a family-run enterprise as which Tracey runs alongside her husband, Paul. She says: "Making the products and experimenting with scents was a real adventure, but as time passed I felt that I had to introduce some structure to my ways of working if we were to grow.
"I have a lot of experience in management processes in a corporate context, but it was quite different trying to apply those models to my own small, start-up business."
Thinking big: the five-year plan
Tracey discovered the Evolve Digital programme at Lancaster University Management School and felt it could be the key to helping her plan ahead and introduce processes to increase productivity and efficiency.
She says: "I hadn't done a university-based programme since I finished my management degree thirty years ago, so I was a little apprehensive. I was also concerned about whether Manor Barn Organics would be too small for me to be able to apply the principles we learned.
"The programme itself was quite a surprise, though. Rather than focus on the nuts and bolts of IT systems, which I thought we might, we went much deeper - into our business strategy, leadership styles and medium and long-term aspirations.
"I went from having no strategy to sketching out a one and five-year plan. I also mapped out my production processes, which enabled me to see where there were 'hot spots' - complications or bottle-necks that I could iron out."
Participating in Evolve Digital has given Tracey a vision for where she'd like to take the business. She continues: "The programme has helped me to see the potential that new technology offers. For example, introducing an automated batch-tracking system so I can follow production from raw materials to final product."
New confidence for the future
I was very much in need of a confidence boost when the programme began. I wondered whether my business had a future. However, thanks to Evolve Digital, we now have a road map and a much greater sense of purpose and direction. I have a framework for making decisions and don't simply rely on my gut instincts.
"And, although we are a very small enterprise, the sessions on leadership also helped me to see myself as someone who can lead Manor Barn Organics into the future.
"Paul thinks the renewed inspiration I've gained from Evolve Digital is fantastic and we're excited to embark on this exciting new phase of our business."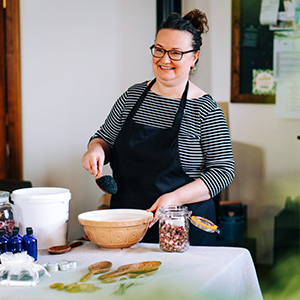 ''We are pleased to have been selected by BEIS and Innovate UK to design and deliver this innovative programme which will give hundreds of family businesses a much-needed boost to better understand digital technology, cut through its complexity and get to grips with the benefits that technology can offer. This will help ensure family businesses grow and thrive for generations to come." Helen Wilkinson, Knowledge Exchange Development Manager
Costs & Eligibility
This programme is fully-funded by the Department of Business, Energy and Industrial Strategy (BEIS) and available to eligible businesses;
Small family business based in North West of England
From any business sector, employing between 2 and 50 people
Business has been operational for at least one year
Participant must be family member/owner of business
To discover more about the programme, please get in touch with us. Get in touch
For further information about Evolve Digital, please register your interest and one of the team will contact you as soon as possible. If you would like to apply today, please complete the online application form.