Family Business Excellence Programme
A six-month programme, designed for family-run SMEs to enhance business productivity and develop a sustainable strategy to serve future generations
About the Programme
This is a historic programme that was funded by ERDF between 2014 and 2020. For further information about other business development opportunities please get in touch with us.
There are so many challenges that arise from mixing business with family. Through years of research and engagement with global family businesses, the Lancaster University Management School (LUMS) Centre for Family Business have developed this Family Business Excellence Programme for Lancashire and Cumbrian SME businesses to help to gain an understanding of these challenges and how to overcome them. Programme Elements
The Family Business Excellence Programme includes 1 day per month, over 6 months. You'll participate in a range of challenges, workshops and tasks to develop strategic thought processes and skills to build a sustainable future for your business. The focus on practical learning means there are no formal assessments.
A two-day overnight event to build trust and start the journey
Business Benchmark session to explore your current situation, identify strengths and weaknesses, and what changes will have the biggest impact
Practical workshops on the real issues behind family businesses; leadership, strategy, innovation
A behind-the-scenes company visit to a regional family business to learn best practice
Learn from leading family business academics at Lancaster University Management School's 'Centre for Family Business'
Interactive 'fish-bowl' panel discussion with industry experts including LUMS Centre for Family Business
The Benefits
Develop a productive and sustainable family business with a strategy to serve future generations. It will give you time to work on your business, solving current and future problems, improve performance and sustainability. Empower and encourage the next generation to take ownership and accountability of business performance, explore inter-generational and succession issues while learning from world-leading family business experts.
Success and succession - family business programme enables Partington's to focus on the future
"The business has been going for 75 years but I was interested in what it would look like in 15 years' time," says Andrea Challis of Fylde Coast-based Partington's Holiday Centres. "The Family Business Programme focused us on what's important to succeed – now and in the future – and it has given us the tools for this success to take place."
Andrea and her brother, Robert Kearsley, are joint group CEOs of this 4th generation family business, which has holiday and caravan parks across Lancashire, Cumbria and North Yorkshire. "We're a family-run business - but we also look after families with our holiday offering," Rob explains. "It's all about family."
This means trying to treat everybody as part of the family, he says. "We're just short of 250 people at the moment and we personally interview everybody, we know everybody, it's personal." Although it is a mindset that presents its own challenges, it has also led to important changes, including several inspired by the Family Business Programme.
"To open things up, we've established a focus and reaction team, drawn from a small number of experienced managers, which is tasked with listening to voices other than just mine or Andrea's and implementing ideas that bring immediate effect. We came straight out of one of the sessions and set that up. We've also created a new management board, with a Chairman from outside the family, to oversee the next 15-25 years, and again that's come out of the programme – it has refocused and reenergised us."
The programme, developed and delivered by Lancaster University Management School and its Centre for Family Business, invites two attendees from each company. While typically these delegates span the generational divide, Rob and his sister had recently bought out the other directors and found themselves running Partington's together. "It was a funny position. Although we were coming off the back of our 4th best year trading, we were wondering where to go next. It was almost like a start-up," he says. "Plus, Andrea and I have worked together for 25 years now. You get two for the price of one with us, that's our dynamic. It wouldn't have worked with just one of us coming on the programme."
Andrea agrees. "It was great to have time away from the business, together, so we could think about things in a different way and discuss what we'd learned straight away." She adds that she really appreciated the range of different generations and different perspectives on the programme. "It was really good listening to the younger people, who were the same age as our children, because they had completely different viewpoints."
In fact, she says, the programme quickly focused her mind on the issue of succession planning. "We were discussing having the right people in the right jobs. Then, during the 'fishbowl' session in the Growth & Regeneration workshop, I was put on the spot about my main concern: when our children came through, would we be able to place them in positions that would be best for them and for the business? As it was, Rob and I had never even asked them if they wanted to work with us!"
As a direct result, Andrea says, she and Rob held frank discussions with their children. "It was difficult, because we didn't want them to feel obliged, but now we're in a far better position, knowing how they feel about joining the business. That was a massive outcome for me."
Thanks to the programme, they have also re-examined their training provision. "Being in the service industry, we spend a lot of time and money on training," Andrea says. "The vast majority of that budget was going on leadership for established managers - yet they were the ones who were already pretty good at it. Now, instead, we're putting first-line supervisors on leadership courses to build their potential. That came up on the first day of the programme, and within weeks we had 40 people on the courses."
Andrea also enthuses about the workshop sessions that divided the delegates into separate peer groups, providing a confidential environment in which to unpick strategic and leadership issues by asking open questions of one another and then developing action plans. "That's something I've been using at work to get more out of people," she says. "Rather than asking a question you think you know the answer to, you get them to think about it properly and actually wait and listen to what they've got to say."
Both siblings are full of praise for the practical tools and techniques introduced over the course of the programme. "You get out what you put in and I was impressed by the openness of the people in the room," Rob says. "It felt natural. It was nice to think that we might be in a position to advise people who haven't yet been through what we've been through, and if something comes up that I think they could help with, I'll call them."
"You can feel isolated working in your own business," Andrea adds. "This gave us the opportunity to meet other family business people, from completely different types of business, and to realise we're all facing the same sort of issues. It helped us see that sometimes you're wearing so many different hats, thinking about so many different areas - and you need to step back and focus on the right things."
The Family Business Excellence Programme is funded by the European Regional Development Fund, and is available to eligible ERDF Lancashire based SMEs.
The Family Business Excellence Programme is a six month programme designed for family-run SMEs to enhance business productivity and develop a sustainable strategy to serve future generations. It is fully-funded by the European Regional Development Fund. Contact us on familybusiness@lancaster.ac.uk to find out more.
Getting past the daily grind - how the Family Business Programme helped Atkinsons overcome barriers to growth
Atkinsons, coffee roasters and tea merchants, are part of Lancaster's history - a fact not lost on owner and 'Keeper of the Flame', Ian Steel. "There's a feeling of responsibility. It's the oldest retailer in town, but we can't get stuck in a 'heritage rut'. So we try to blend in cutting-edge elements and keep things progressing all the time."
Ian's sons are also involved in running the business and the eldest, Maitland, signed up with his father for the pilot of the LUMS Family Business Productivity Programme. Having two delegates from each business can offer fascinating variations of perspective across generations as they get to grips with new approaches for improving productivity and sustainability.
"One thing we did on the programme was to track where you think your business is in its lifecycle and that was interesting," Maitland says. "Dad saw us as currently setting things in place for it to be in its prime, whereas I had it positioned nearer to its beginning: being younger, I've got the rest of my life to see it becoming something more."
"The programme helps you focus on the hard problems you need to confront to move forward." Maitland highlights one such issue: limited scope for staff to get involved in roasting. "We'd been putting it on the 'too hard' pile, but the peer sessions helped us think through the problem and set a deadline to take action. So we've created a space for cross-skilling, opening up opportunities for cafe managers and baristas to grow their knowledge of coffee generally, which increases the quality and consistency of the product. They get more experience, feel more empowered - and the company gains versatility."
This touches on a common potential sticking point for family businesses: lack of structured career development, which Maitland says can affect people like him and his brother, as well as other personnel. "On the programme, we talked about how you need to make it easier to learn from the people around you and, as you take on more responsibility, how you need to think about who's going to do the jobs you used to do."
"It also really helped with leadership styles," he says. "Rather than the typical family business pacesetting style, adopting a coaching style that enables staff to buy into your values. And it encouraged us to implement structured meetings with heads of department, to get a clear idea of what needs to be done and to set an action plan. What's definitely been useful from the whole exercise is taking a step back and thinking about what we want to do going forward and how we're going to do it."
"The programme has helped us to solve previously unsolvable problems," Ian confirms, citing the example of having another business on the premises, which had been nurtured through the early incubation stage and had grown into a major supplier. "Whilst it had been apparent for a while that the paths of the two businesses were diverging, having a new toolkit from the Productivity Programme gave us the clarity and boldness of vision and the courage and expertise to develop a strategy to satisfy both parties. We now operate this business ourselves, with much healthier margins and it complements our existing business portfolio."
Overall, Ian says, attending the programme with his son has offered both of them a fantastic, life-changing opportunity to plan ahead. "I remember one time we came back from a session, and discussed it with the rest of the family, and a half hour debrief ended up taking the whole afternoon because everyone was so interested. Now we have two upcoming business ventures and I'm sure that our outlook since the programme has helped push the doors open. If planning ahead keeps everyone in a good place through the generational shift, that's what a family business is all about."
The Family Business Excellence Programme is a six month programme designed for family-run SMEs to enhance business productivity and develop a sustainable strategy to serve future generations. It is fully-funded by the European Regional Development Fund. Contact us on familybusiness@lancaster.ac.uk to find out more.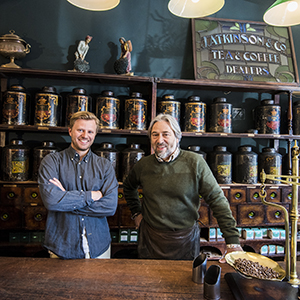 Facing the Challenges of Family Business
Anyone involved in a family business knows they are different to other businesses. The relationships, dynamics, culture, governance and the challenges faced are more complex.
Read article
"Family businesses face unique challenges. This programme will support you to explore and address the most important of those challenges. We use theoretical frameworks applied by experienced business practitioners, all in the safety of a peer network made up of other regional family businesses. This really is an opportunity to shape the future of your family firm." Helen Wilkinson, Knowledge Exchange Development Manager.
Costs & Apply
This programme is fully funded and available to businesses which are eligible under the European Regional Development Fund (ERDF) criteria, as follows:
Based in Lancashire and Cumbria
Employ fewer than 250 full-time equivalent (FTE) employees
Annual turnover of less than €50 million (or the equivalent in GBP)
Received less than €200,000 of de minimis State Aid in the last 3 years
Find out more about how and why Lancaster University and our funding bodies holds your information.