Innovation Development Programme
A six-month programme as part of the Cumbria Innovations Platform, designed for Cumbria based SMEs to explore new markets or ideas for product and service development. Explore and evaluate opportunities, challenge each other, and learn the tools and knowledge needed to accelerate innovative business ideas.
About the Programme
This is a historic programme that was funded by ERDF between 2014 and 2020. For further information about other business development opportunities please get in touch with us.
The Innovation Development Programme is a programme delivered by Lancaster University Management School and has been specifically designed for senior decision makers of Cumbria based SMEs. This six month peer-network programme will give delegates the space to explore emerging trends and the opportunities for innovation in their businesses. Programme Elements
The Innovation Development Programme includes Monthly sector-focused half-day workshops and masterclasses
An Overnight Experiential over two days (one night) to build relationships with your peer group.
Monthly, sector focused half-day workshops.
An interactive group challenge to identify and maximise opportunities across the food and drink landscape in Cumbria.
Access to Lancaster University expertise to aid with progression of your ideas.
A final residential (one night) to consolidate learning and put ideas into action.
The Benefits
You will gain insights into the challenges and opportunities identified by future trends. Learn the tools and approaches to implement innovation in your business. Develop long-term relationships with like-minded businesses. Throughout the programme, you will have access to Lancaster University expertise to aid with progression of your ideas.
Changing the tune – how Jaybox discovered a new approach to innovation
Having successfully designed, manufactured and distributed their own bespoke touch-screen jukebox, Jaybox were already pioneers in the demand-driven supply of music. Participating in the Innovation Development Programme helped them to see their growth plans in a new light – and to find new ways to take their offer to market.
Signing up for the six-month programme delivered by Lancaster University Management School (LUMS) was a logical step, says Jamie Barnett, Sales Director at Jaybox. "Being quite a small company, the problem we had was getting bogged down instead of getting ideas into reality: it's often difficult to generate the resource to push for innovation. So we were looking to speed up that process and actually follow ideas through."
The Penrith-based company had previously engaged with Lancaster University's Science & Technology department on two student projects: one working on the collaborative filtering that enables related customer recommendations, much like Netflix or Amazon; the other reporting on a broad range of technology that could be incorporated into their core product. As they began to look at developing new systems and a new product, a business programme designed to equip Cumbrian SMEs with better tools for innovation had obvious appeal.
"It was different to what I envisaged, but good different," Jamie says. "The scope was wider. It included a lot about generating ideas, which we were pretty good on anyway. But then it went through how we could challenge those ideas and develop them into fuller, implementable ideas, which we definitely weren't so good at. We'd been guilty of either shooting things down too soon or waiting until something was absolutely perfect."
"The programme showed us that your first product release doesn't have to be perfectly polished, if it's properly innovative. You can change it as it goes, and you can get the basis of a deal together and then polish it later." He goes on to describe how a number of new contracts, for supplying music to third parties - a significant new direction for the company – have come about by using this approach.
Jamie highlights the peer learning within his cohort as a particular strength of the programme. "There aren't many people that do what we do, but I found that a lot of the other businesses, while being totally different, still had a lot of the exact same problems. Learning about their slant on business - as well as learning common techniques for pushing through innovation - was the tip of the iceberg, and it's really spurred me on to learn more." He explains that as a direct result of his involvement on this programme, he has started an apprenticeship degree course with the University of Cumbria, LUMS's partners in the wider Cumbria Innovations Platform.
He is also exploring closer links with other companies, both fellow entrepreneurs from the programme and those increasingly important third parties. The change of mindset came in no small part from the programme's emphasis on Open Innovation: "Historically, we were all about NDAs and keeping IP firmly to ourselves. Whereas if you share your ideas and collaborate with other companies, often you can develop things that you would never have got to on your own. The programme opened our minds to doing that."
"Overall, it was very motivating," he says. "It gave us the tools and techniques to look at what we were doing and to change tack, quite considerably. It helped us see how we needed a new product – or products – and we needed to push for that. It also changed our view on what the market wanted, and the kind of company we'd be, moving forward."
The Innovation Development Programme is a six-month programme to help senior decision makers develop the skills, knowledge and confidence to think innovatively in their business. It is part of the Cumbria Innovations Platform project, part funded by the European Regional Development Fund. Contact us on innovationdevelopment@lancaster.ac.uk to find out more.
Daring to be different - Cumbrian loudspeaker experts find inspiration in Innovation Development Programme
Colin Shelbourn of EJ Jordan expected the Innovation Development Programme to help him take new products into new markets. What he didn't expect was to start questioning everything his business was doing and how it was doing it.
This small Windermere company was built on the technological innovations of its founder, Ted Jordan, and continues his distinctive legacy, designing and manufacturing high end loudspeaker units for the home. As one of two multitasking Directors, Colin recognised the need to create time and space to think more strategically about the business and what the rest of the industry was doing.
Having already worked with Lancaster University on engineering student projects, he heard about the new Innovation Development Programme being run by the Management School, checked if he was eligible and applied to take part. It was to turn his thinking on its head.
"I came into the programme thinking that I had a product to sell," Colin explains. "I've emerged from it realising that I have a business to grow. It was a whole new perspective on what we were doing. If you like, by the end, the business had become my product."
"When you're a small company, you don't have many people to challenge you on a regular basis," he says. "So it was very powerful to be on a programme that was structured to make you think differently – and to be working with other businesses, sometimes in smaller breakout sessions, who could point out things you'd overlooked. I found myself looking afresh at how the business operates, at what we can innovate, at our place in the market, what makes us unique and what differentiators we can have."
It was during the second workshop that everything started to gel for him. "We were looking at how Steve Jobs said don't compete by trying to be better, compete by trying to be different. That was when I realised how important this programme was going to be for us. I saw how crucial it can be to put the brakes on and understand that what's right for the competition might not be right for you. How, as a small company, we can do something new - and be seen as different and interesting."
Another highlight was the way the programme opens up access to the resources of the wider University, helping businesses to accelerate their innovation towards testing or prototyping new products. "They made introductions and gave us the opportunity to go and look at the facilities across the Faculty of Science & Technology. We saw that there were lots of people you can draw on who were used to looking at things from a different angle. I've already had help from the Engineering department with analysis, materials selection and manufacturing methods and I'm very excited to take the solution forwards. It gives us a clear route to build on our distinctiveness and achieve something unique."
Overall, Colin says, the programme has left him much more open to collaboration with other experts and other companies. "It has given me ideas on different, less traditional ways to sell our products - which we're actively in the process of developing at the moment – and a lot of that involves looking for closer collaborations with other companies and developing those as a route to the market."
One example of an opportunity that requires a change of mindset, he says, is the retro market. "In one of the workshops we looked at how Polaroid were tackling this - and it's very big in the hi-fi field as well. Instead of regarding it as a curiosity or a threat, it's a challenge that can be turned around to our advantage. That's what the programme does: it gives you a lot of extra confidence about how you tackle things, creates the space to question what you're doing – and then helps you find a better way to do it."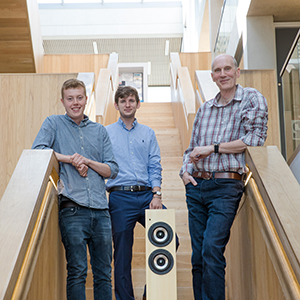 "Change is accelerating at an ever increasing pace and for business this means exciting new opportunities and markets to explore. For Cumbria businesses, this is a chance to evaluate new opportunities through workshops, business tools and a trusted peer network. Over six months, businesses will access our expertise and support on their journey to developing tangible and innovative business ideas." Zoe Detko, Project Delivery Manager

Collaboration
This programme forms part of the Cumbria Innovations Platform, a new collaborative project between Lancaster University and the University of Cumbria. This is a £4.1m project which is intended to accelerate innovation in Cumbria by driving transformative thinking and support the commercialisation of new ideas.
Cumbria Innovations Platform
Costs & Apply
This programme is fully funded and available to businesses which are eligible under the European Regional Development Fund (ERDF) criteria, as follows:
Based in Cumbria
Employ fewer than 250 full-time equivalent (FTE) employees
Annual turnover of less than €50 million (or the equivalent in GBP)
Received less than €200,000 of de minimis State Aid in the last 3 years