Low Carbon Innovation Forum
A six-month programme designed for Lancashire Businesses seeking to understand the opportunities presented by the transition to a low carbon economy.
About the Programme
Eco-innovation is the development of any new and improved product, process or service which provides customer and business value whilst significantly decreasing environmental impact.
Join this programme, along with like-minded Lancashire SMEs to realise the competitive advantages of rethinking business processes and embracing eco-innovation.
During the six-month programme, you will be given the tools and the platform to explore opportunities to create competitive advantage. Leading academics from Lancaster University and business experts will share the latest thinking and research on emerging technologies. Discuss global and local challenges and discover opportunities to join the low carbon economy in line with the UK Clean Growth Strategy.
Next Programme Start: September 2020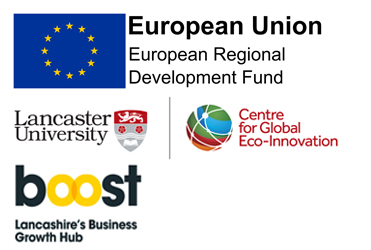 Who is this programme designed for?
This programme is designed to equip senior decision makers of Lancashire-based SMEs with the knowledge and tools to sharpen their business strategy whilst reducing environmental impact. Our last cohort ranged from food delivery and processing companies with high energy requirements, to providers of printing services, and innovators developing reusable healthcare products. However diverse, as Lancashire SMEs they share many of the same challenges and have used the programme to exchange ideas.
Programme Elements
The Low Carbon Innovation Forum programme includes sessions each month, taking place over 1-2 days. You'll participate in a range of challenges, workshops and tasks to develop the tools and techniques to explore low carbon innovation for your business. All sessions are practical and interactive and designed specifically with SME owner/managers in mind.
---
An Overnight Experiential (two days, one night) at a Lancashire Hotel to build trust amongst the group.
---
Interactive workshops on: Eco-Innovation, creating a sustainable business model, and energy conservation and waste management.
---
Eco-Innovation challenge and company visit with a large regional business to stimulate ideas and discussion.
---
Examine today's innovation landscape with sample case studies and group challenges.
---
Gain a set of business development tools including the Triple Layer Business Model Canvas and Action Planning.
To discover more about the Low Carbon Innovation Forum, and how it could transform your organisation, please complete our enquiry form and we'll be in touch shortly.
The Benefits
There is real incentive for SMEs to dedicate time to think about eco-innovation within their business. The potential benefits include more efficient processes, cost-saving ideas and a competitive advantage through innovation development. You will draw knowledge from the strong expertise within Lancaster University, and learn the tools and techniques to take a fresh view of business practices.
Viewing the possibilities – Forum shows Mighty House the way forward
"We're not massive carbon emitters as a business," says Peter Charnley, MD of Lancaster-based estate and letting agents Mighty House. "But going on the Low Carbon Innovation Forum showed me how we could make important changes."
A conscientious recycler at home, Peter was interested in seeing how his business could be greener, both for its own benefit and out of a sense of environmental responsibility. "I felt I had a duty to take it seriously," he says. "So when I saw the Forum promoted at a business masterclass at Lancaster University, that ticked the right box for me."
From the start, the Forum challenged his expectations and his thinking, he says. "We're not manufacturing industrial products, so there isn't an obvious big change we can make to our carbon footprint, but that was blinding me to all the changes we could be making. Mike Berners-Lee's session on creating a sustainable business model was particularly enlightening there: seeing the far-reaching impact of our everyday activities."
Another highlight was the chance to build connections and learn from his fellow delegates on the programme. "The sharing of ideas and little snippets of what the other people had done... You think 'I can park that, because I know I'll be doing something similar in the future'. The whole peer network was very beneficial. Still is."
While he found the experience personally motivating, one of the first things he learned was that he also needed to get his staff on board. They held meetings to discuss what could be done, from going paperless – including telephone notepads and Post-It notes – to walking to viewings if possible. Soon Peter had introduced a cycle-to-work scheme and ordered two hybrid cars. He is now looking at the option of electric bikes.
"100% it opened my eyes to new possibilities. A part of my job is refurbishing houses and, as a direct impact of the Forum, I massively improved the amount of insulation we put in. Plus, I've actually cancelled orders for gas supplies to properties: we shouldn't be using fossil fuels, we should be using renewable energies, which means going electric."
He adds that he has written to his local MP and the Royal Institution of Chartered Surveyors to press for changes in the way energy efficiency is assessed and certified in properties. "I said you've got to reconsider the recommendations to install gas, which are no longer relevant in light of climate change." Having received a favourable hearing, his suggestions are now being raised with the relevant Government departments.
Insights gained in the Forum can work both ways: influencing his business and helping him to influence others. He gives the example of the lettings managed by his student accommodation arm, Mighty Student Living. "Come the new academic year, we'll be heavily promoting the green agenda - even if they're OK at recycling, students can be bad at managing their heating bills! But at the same time, hopefully they'll like the fact that we're serious about that. It might even help to make us stand out as a business."
Peter is also teaming up with another cohort member to explore the possibility of implementing more efficient control systems across all his student properties: perhaps enabling automatic control of heating, en masse, over the holidays. It's another example, he says, of what you can achieve if you go into the Forum with an open mind: "It's all about setting you on a path - now I feel like I'm helping to shape things for the better."
The Low Carbon Innovation Forum is a six-month programme for Lancashire based-SMEs, part of Boost Business Lancashire, and funded by the European Regional Development Fund (ERDF).
Investing in the future – My Fish Company aims to make a difference
"We've all got to do something, and we can," says Jane Kaylow of My Fish Company. "That's what I've taken from the Low Carbon Innovation Forum. It all adds up, and what you can't do today, you can plan to do tomorrow."
Sustainability is important for this independent wholesale fish and seafood supplier. The company was already committed to investing in its industry's future by working with supermarkets to train the next generation of staff. So when they heard about the Forum, she and owner Gary Apps were hooked: "A cohort of like-minded people working through ideas and solutions to roll out a whole eco-agenda? We thought that was fantastic."
They also saw the benefits of enhancing their reputation as being socially aware. "Fish is a high volume, low margin business," Jane says. "Even though we've grown massively over three years – from 15 to over 60 staff - we're still small fry. We need something that differentiates us and makes us special."
Being part of the Forum's network presented opportunities right from the start. My Fish Company is now working with fellow delegate Affinity Packaging on developing cardboard packaging for a new fish-and-sauce-portion product line. In fact, Jane says, they are actively investigating greener materials and hope soon to ensure that their biggest volume item goes into their biggest account in a recyclable tray. "And of course that will help our customers in turn – to be able to say they use an eco-friendly supplier."
The Forum also encouraged her to look at fuel bills. "We've got 11 delivery vans now and our diesel bill is huge, so we're looking at a tracking system that monitors fuel efficiency and driving styles and enables us to advise drivers how to save fuel." This potential to leverage data has been one of her key takeaways from the Forum. "I really enjoyed the session that looked at the 4th industrial revolution," she says. "There's such potential to make a difference to a typically old-fashioned industry like ours."
Having been on the six-month Low Carbon Innovation Forum, Jane was eager to find out what else Lancaster University Management School could offer SMEs. She and Gary have now signed up for the year-long Productivity through People programme and are excited to see how this will help them handle the next phase in their growth.
Forum keeps Affinity ahead of changing priorities in the world of packaging
It's been called the 'Blue Planet' effect. Society is finally waking up to the crisis of single-use plastics. As manufacturers of folding cartons, Affinity Packaging already provided the most eco-friendly alternative. Going on the Low Carbon Innovation Forum showed them how much more they could be doing.
This long-established Leyland business has been carving an innovative path since its MBO and turnaround in 2014 - providing bespoke packaging from initial design to unique cartonboard solutions. As their MD, Chris Dew, acknowledges, this has put them in a good position to benefit from changing attitudes to sustainability.
"I had already been on one of the University's programmes – the Lancashire Forum – in Affinity's first year, and that had helped enormously to set out a plan for growing the business," he says. "So when the Low Carbon Innovation Forum came along, I thought it would be a great opportunity to look at our market from a new perspective."
As well as refreshing Affinity's value proposition for an evolving customer base, Chris hoped to learn about improving its carbon footprint. In this respect, particularly, the Forum exceeded all expectations. Reviewing his energy usage has led to him applying for a grant from the Chambers of Commerce to put in LED lighting, which promises to have further knock-on benefits. "I've looked into the payback on that and it's very good, but it should also have a beneficial effect on quality of light for the people who work here. I wouldn't have gone down this path if I hadn't been involved in the Low Carbon Forum," he says.
"It really opened my eyes to all the things that needed to be looked at around the factory, and how you go about doing it – including seemingly mundane things like compressors and biomass boilers, as well as getting ahead of the game with charging points for electric vehicles. It was very useful to make contacts on the programme who could come in and help evaluate the next steps for us to get a more energy-efficient site."
This networking – formal and informal – is one of the Forum's best features, Chris says. He was surprised and pleased to find that his peer group included several delegates who already used materials he produces and this has enabled some interesting new collaborations. "One company, a brewery, is being driven by the supermarkets to eliminate single-use plastics on their bottled beer packaging, so we've been working with them to develop a fully sustainable container that does away with the overwrap."
"Because we don't manufacture anything in plastic, our enquiries rate has been going up since David Attenborough made his programme and we're proactively talking to people about alternatives." With innovations in materials being pursued, to the point where it is now possible to contain liquid in cartonboard bottles, Chris is looking at taking Lancaster University up on the offer of postgraduate research – another offer from Lancaster's Environment Centre. Meanwhile, in an initiative sparked by the Forum's previous cohort, Affinity is helping the University itself to go free of single-use plastics on campus.
"Not a day goes by without something in the newspapers around this whole area," he says. "The story of what we do is very positive – and as the Low Carbon Innovation Forum has shown us, this opens up opportunities to further differentiate your business. The key now is to market ourselves on that basis." "For SMEs, achieving a sustainable business model has never been of greater priority. What the Low Carbon Innovation Forum offers is access to the bigger picture: the chance to become part of a powerful network for sharing challenges and opportunities, supported by up-to-the-minute ideas, tools and assistance from the academic community." Angela Moore, Programme Manager
Collaboration
This programme also forms part of the Centre for Global Eco-Innovation. The Centre provides a route for innovative SMEs to undertake research and development with the expertise, resources and facilities at Lancaster University and at partner institutions.
Learn more
Costs & Apply
This programme is fully funded, and available to European Regional Development Fund (ERDF) eligible businesses. Businesses must meet the ERDF criteria as below:
Based in Lancashire
Employ fewer than 250 full-time employees
Has an annual turnover less than £40 million
Has received less than £160,000 of publicly funded support in the last 3 years
For more details or to apply for our next start in September 2019, please get in touch with us.