Low Carbon Innovation Programme
A three-month programme designed to help Lancashire construction businesses to understand the opportunities presented by the transition to a low carbon economy
Enquiry
About the Programme
This is a historic programme that was funded by ERDF between 2014 and 2020. For further information about other business development opportunities please get in touch with us.
The Low Carbon Innovation Programme is designed for SME leaders interested in connecting with like-minded regional peers and industry partners to address the opportunities and challenges posed by the Net Zero Carbon agenda.
This cohort is for Lancashire SMEs in the construction sector
Industry partners The Fox Group and John Sisk & Son LTD will share good practice around their journey to Net Zero including their 2030 Sustainability Roadmap and the highlights/challenges associated with delivering this.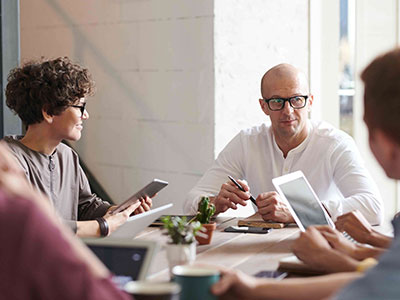 What's Involved?
This fully-funded* programme includes three full day workshops (one a month). You'll participate in a range of practical and interactive challenges and tasks to develop the tools and techniques to explore low carbon innovation and solutions for your business.
More about costs & eligibility
Session: Lancashire Induction
What to expect: Introduction to Net Zero principles and Government Legislation regarding energy efficient buildings and standards required from larger contractors (PAS 2035). An Innovation activity will help you to think differently and respond to the changes required to meet standards.
Session: Retrofit Construction Site Visit
What to expect: Lancashire City Council representatives will lead a tour round a low carbon retrofit construction site. They will showcase good practice around new build regulations and the impact on construction supply chain in regards to new legislation.
Session: Low Carbon Innovation Roadmap
What to expect: This final workshop gives you the opportunity to take a step back and draw together all the areas covered throughout the programme. With support from key stakeholders you will develop an individual roadmap taking into consideration the new legislation and standards required by large organisations.
Benefits to your Business
There is a real incentive for SMEs to dedicate time to think about eco-innovation within their business. The potential benefits include more efficient processes, cost-saving ideas and competitive advantage through innovation development. You will draw knowledge from the strong expertise within Lancaster University and external delivery partners; Fox Group, CITB, Lancaster City Council and John Sisk and Son Ltd.
''There is a real need for construction SMEs to ensure that low carbon processes and methods are incorporated into projects to ensure that buildings meet certain standards and are more energy efficient. Such changes will require construction companies to change the way they operate to procure supplies and construct builds to meet the net zero agenda.''
Enquiry

Costs & Eligibility
This programme is fully funded and is available to businesses which are eligible under the European Regional Development Fund (ERDF) criteria, as follows:
Based in Lancashire
Employ fewer than 250 full-time equivalent (FTE) employees
Annual turnover of less than €50 million (or the equivalent in GBP)
Received less than €200,000 of de minimis State Aid in the last 3 years.
Find out more about how and why Lancaster University and our funding bodies holds your information.