A photographic journey through the favelas of Rio de Janeiro, by Dr Josiane Fernandes.​
Dr Josiane Fernandes' research looks at how people living in extreme conditions overcome barriers and find motivation to shape the world around them.​
She travelled to Rio's largest favela, Rocinha, to explore how micro-entrepreneurs engage in economic activity amidst stigmatisation, violence, and poverty.​ She found businesses keeping a market for tourism alive, using social media and digital technologies to remake and reshape the favela space for visitors. Dr Josiane Fernandes
The pictures in the exhibition were taken on her visits to the favela, and depict daily life for the tens of thousands of people packed into less than one square mile of land.​ Dr Josiane Fernandes is a Lecturer in the Lancaster University Management School .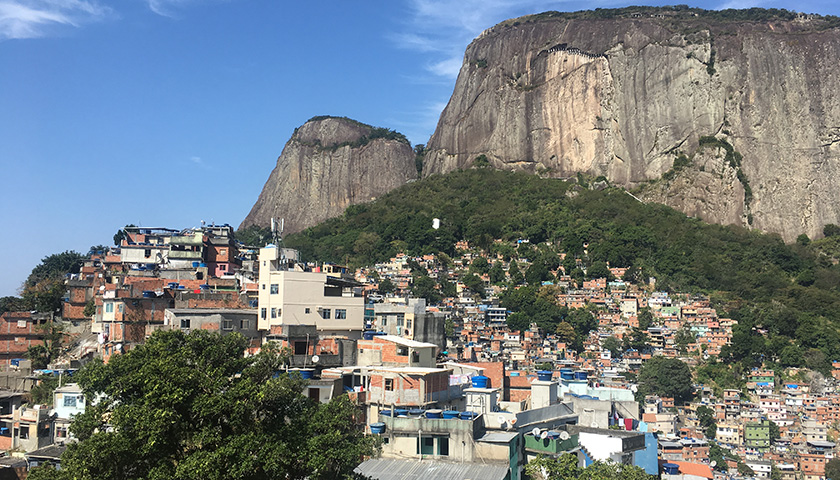 Rocinha favela
The view of the Rocinha favela in its magnificent surroundings.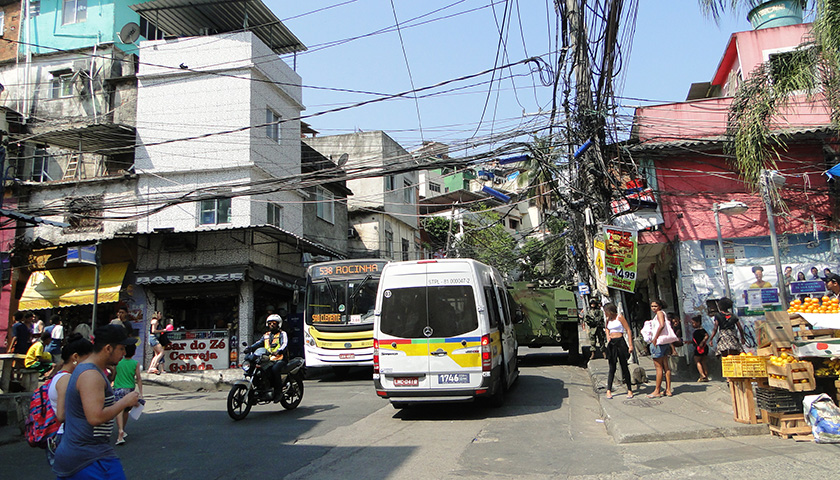 Rocinha main street
The busy main street in Rocinha is where public transport is available and street commerce abounds. The electrical cables hanging between telegraph poles and buildings are a common sight in the favela, bringing power to homes and businesses – not always legally.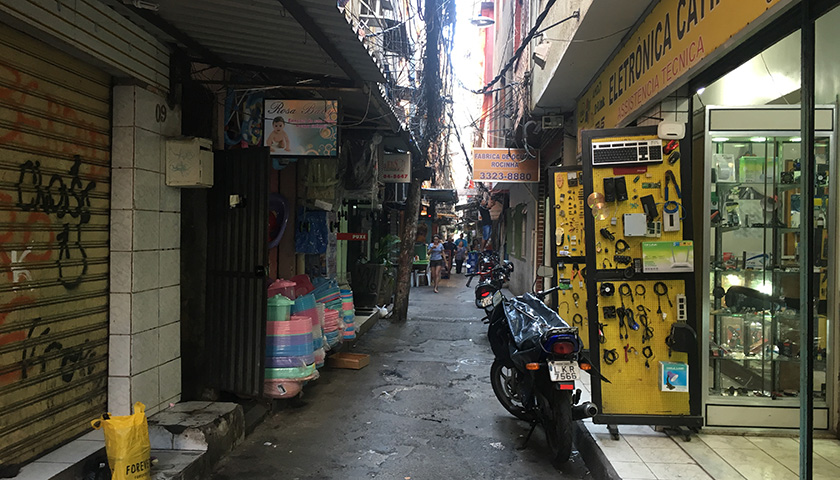 A shop-filled alley in Rocinha.
The narrow lanes in the favela are mostly accessible only on foot, with a few motorbikes making deliveries and transporting people around. Community
There are many busy streets and a community spirit evident in the casual encounters between residents.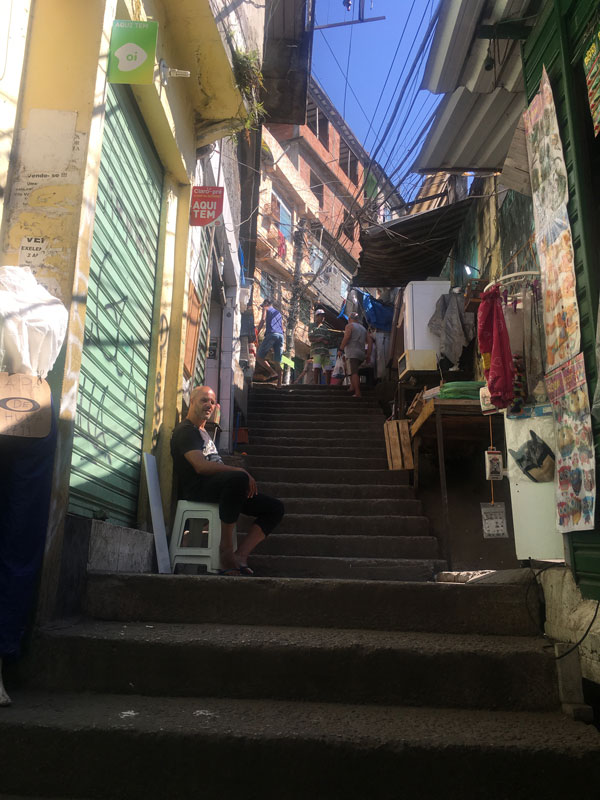 Stairs
Rocinha is built on a steep hillside overlooking the main city. The topography means that residents often have to carry all manner of things uphill. If you live in an alley, you must carry everything from refrigerators to bricks, pay someone to do it for you, or count on the generosity of neighbours to help, which is not unusual.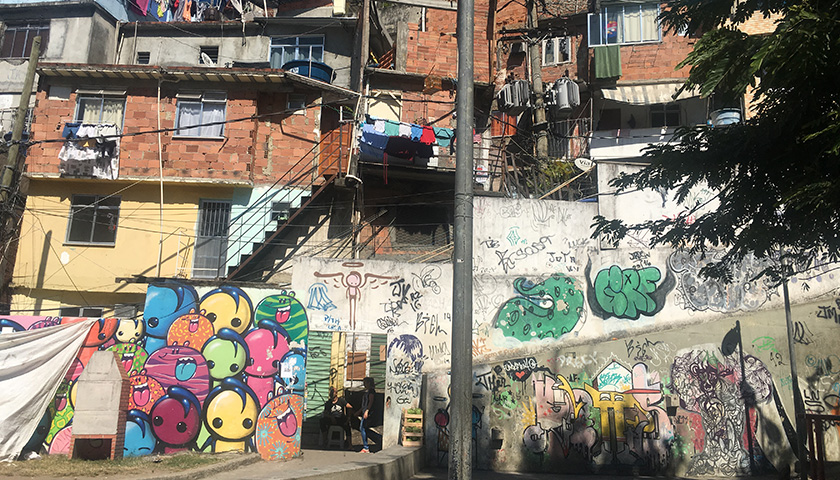 Street Art
The alleys and walls of the favelas are never dull. Here, residents hang their laundry amid the street art and electricity cables.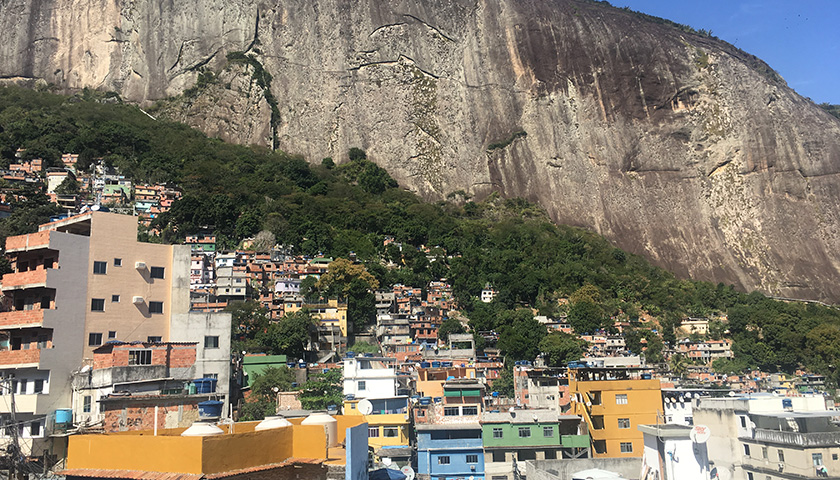 Office view
The view from an entrepreneur's office in Rocinha.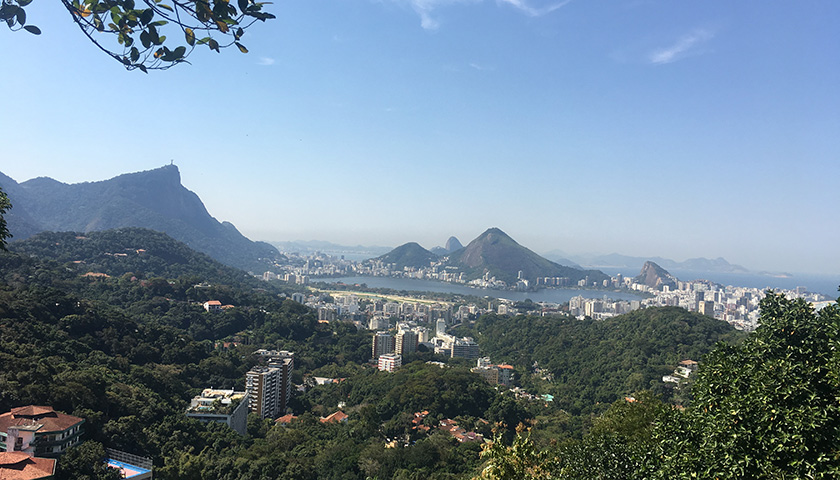 Away from the bustle
The view from the top of Rocinha, with Christ the Redeemer to the left, Botafogo beach ahead, and a glimpse of the Sugar Loaf Mountain.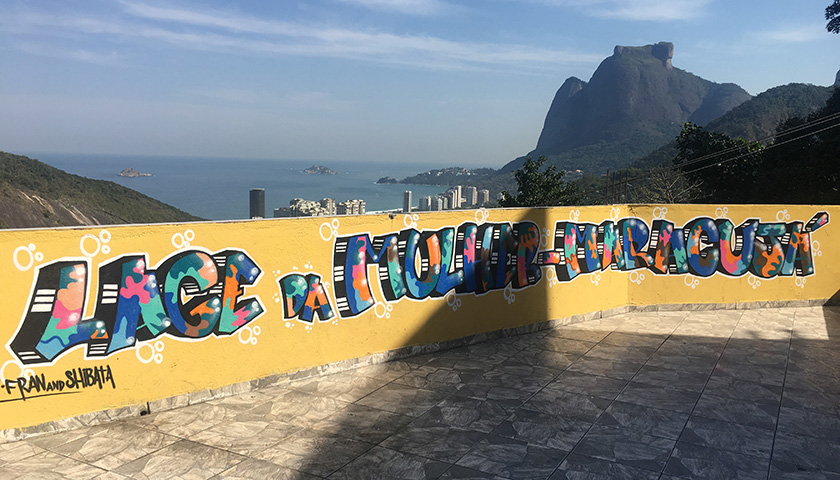 A laje
A 'laje' (rooftop) at the top of Rocinha, with views to Sao Conrado beach, where tourists are served feijoada (a typical Brazilian dish of black beans stew).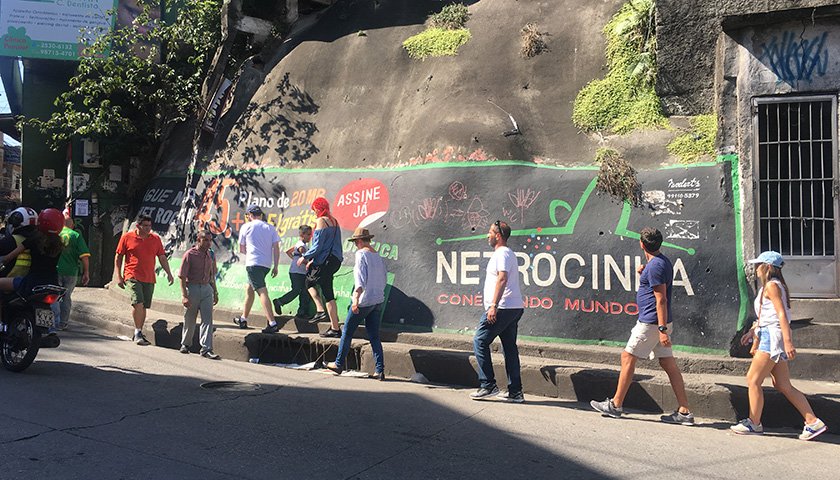 Walking tour
Tourists on a walking tour in Rocinha. Visitors are shown a different world, taken to the heart of the favela, and have the chance to meet with locals.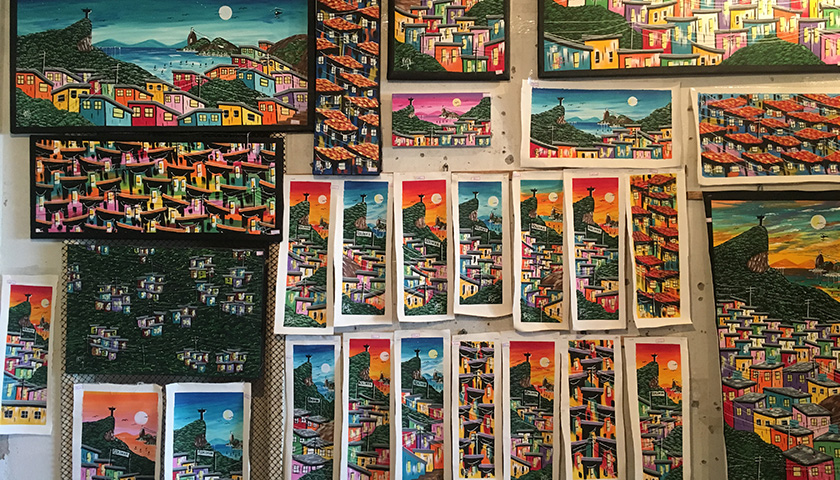 Artworks for sale
Works on sale to tourists inside an artist's workshop in Rocinha. They depict typical favela architecture styles.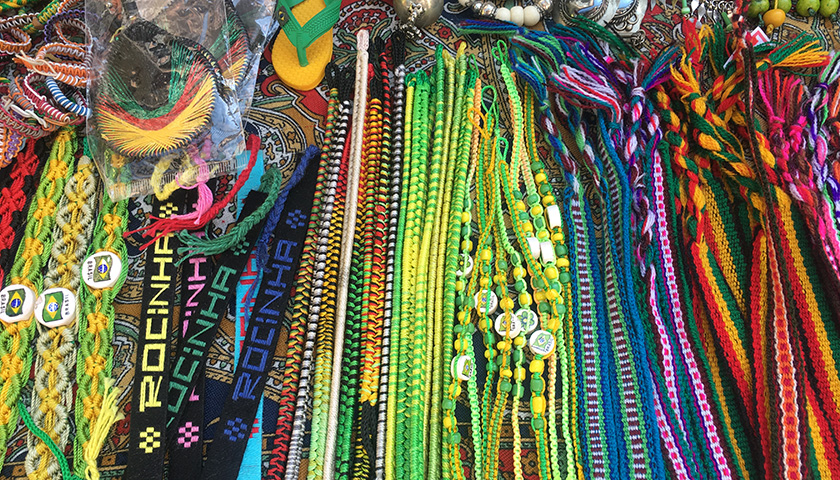 Local crafts
Local crafts on sale in Rocinha.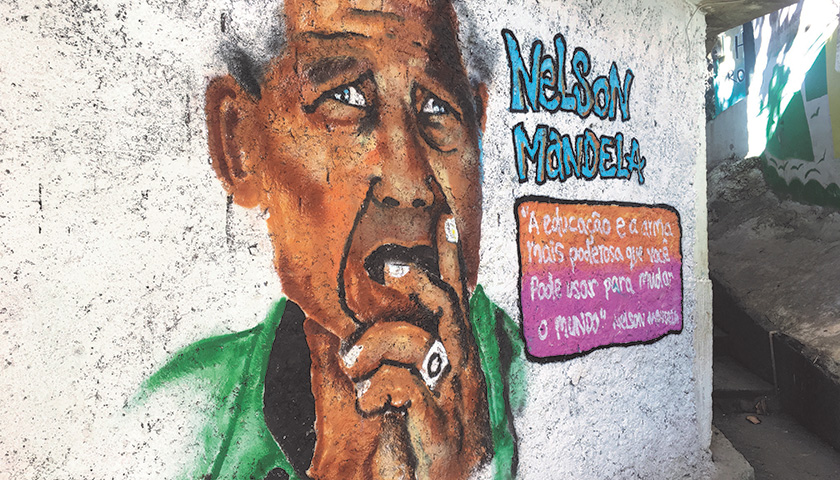 Street art
Street art depicting former South African President Nelson Mandela in a Rocinha alleyway. Performance space
A space where locals perform capoeira – a Brazilian martial art that combines elements of dance, acrobatics, and music. The graffiti on the wall on the right reads ' Esperança' – 'Hope'.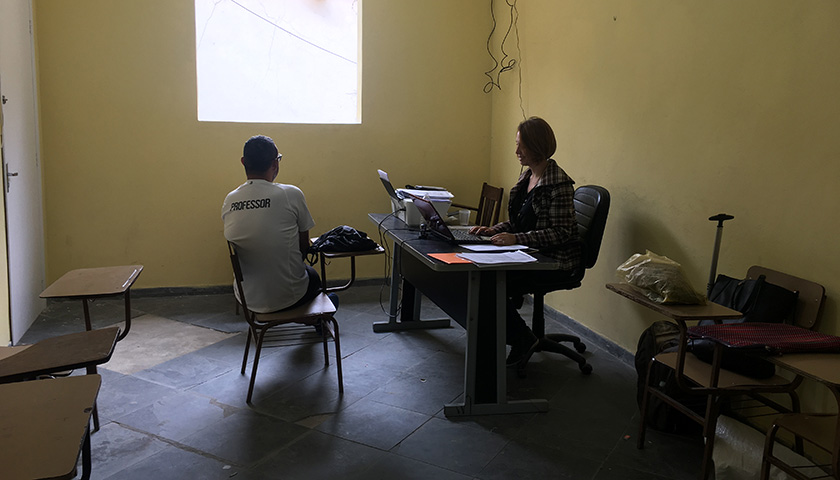 Business support
Inside a church building, with the help of a laptop, the internet and a printer, a professional consultant helps local entrepreneurs formalise their businesses on the spot. Rocinha businesses
Buildings can house numerous businesses under one roof. This café and tourism business, turned part-time library and school, is run by a long-time Rocinha resident from Italy. Pet store
The Rocinha Pet Store on the main street of Rocinha makes full use of all the available space inside and out.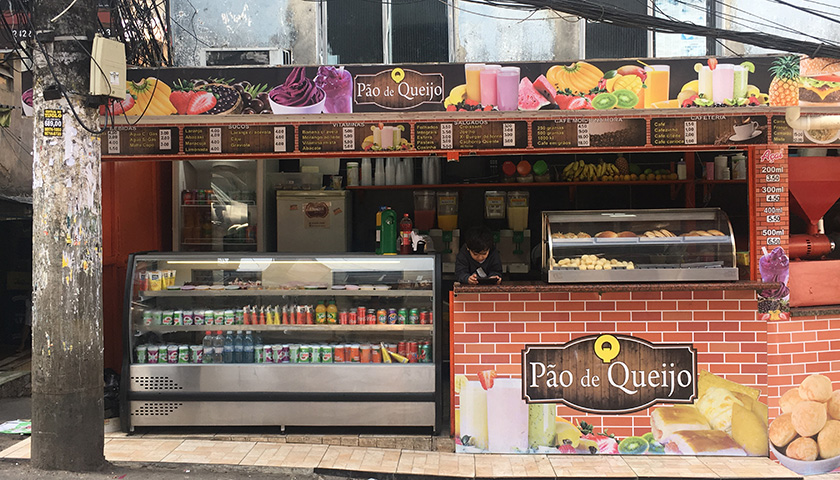 Child playing
A child plays in his family's refreshment stall.​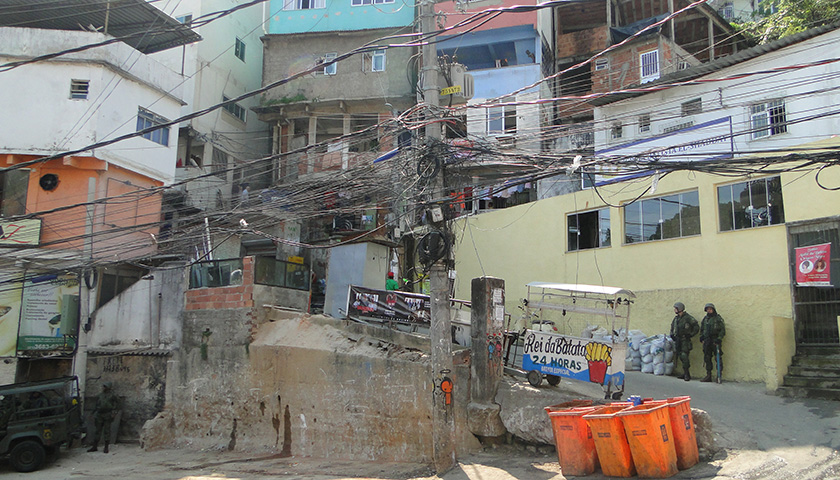 Troops on the streets of Rocinha
Troops on the streets of Rocinha as daily life goes on. This is not a common sight. Troops were in Rocinha because after conflict broke out between two gangs over control of the favela as a drug trafficking territory. This was an unusually serious incident, making the headlines in the UK. The troops were there for a couple of weeks.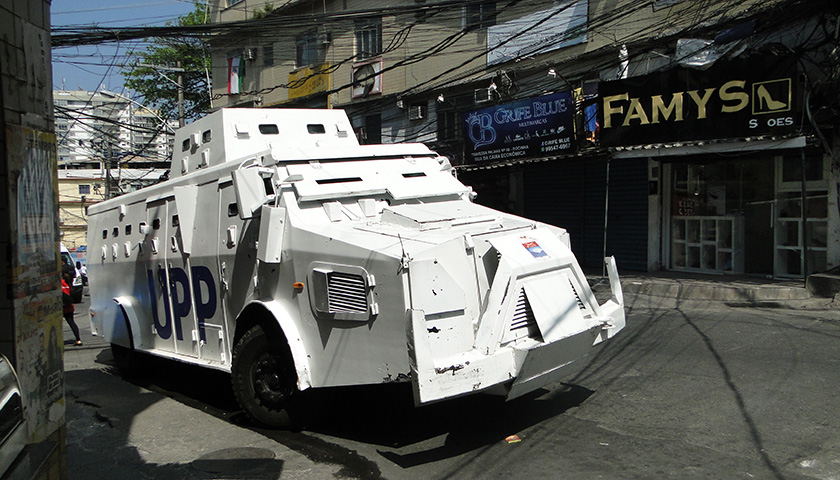 Pacifying Police Unit
Mimicking UN peacekeeping forces, a white tank from the Pacifying Police Unit (UPP) parks on the main street of Rocinha after the breakout of a dispute between gangs.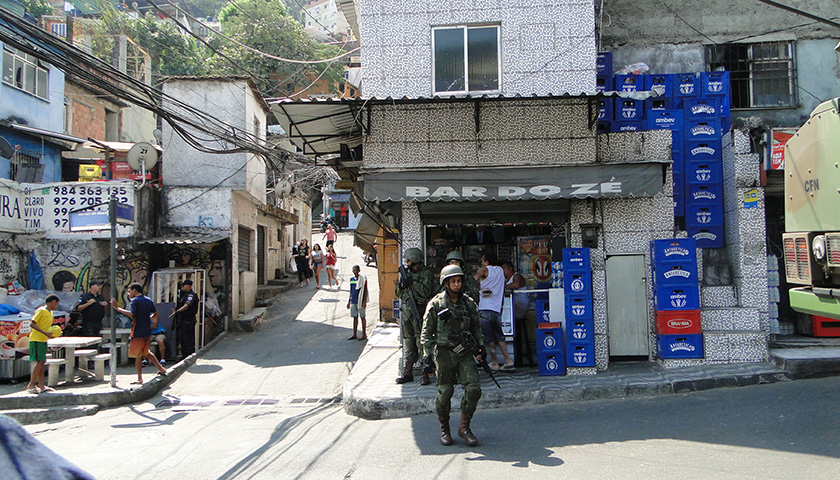 Soldiers
Post-conflict, soldiers stand outside a bar in Rocinha as life resumes.