Case Study: Crowberry Consulting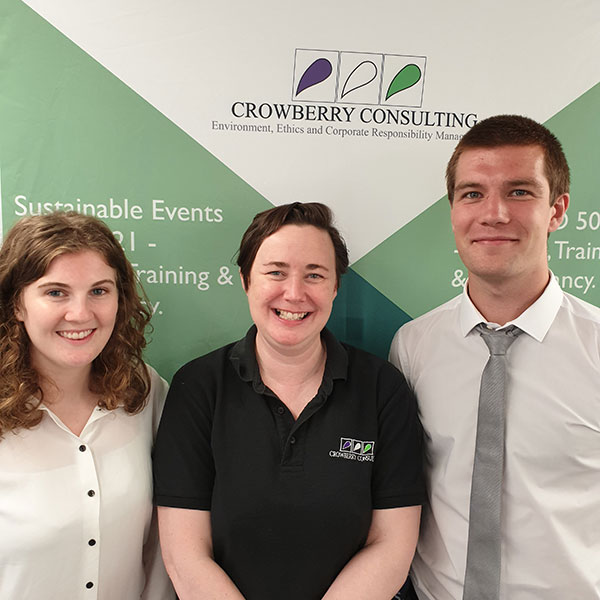 Crowberry Consulting Ltd
Crowberry Consulting® Ltd is a Chorley-based environmental, energy and ethical consultancy which provides consultancy, training and audits for businesses in the UK and overseas. Their team have worked with Lancaster University for 10 years recruiting quality internships and graduate roles.
Over the summer of 2019 they took two LU interns, Lauren Hart (MSc in Environmental Management) and Cameron Wilson (LLB in Law).
Skills Sought
Good verbal communication skills
Proficient in Microsoft packages
Ability to think critically and analytically about environmental and energy related matters
Ability to write short and concise reports
Working knowledge of social media
The Solution
Two interns were recruited, one to help with Legal updates on energy and environment and one to redevelop their ISO 50001 Energy Management & ISO 14001 Environmental Manual and templates.
Cost
The internships were part-financed by Crowberry Consulting Ltd at £3062.52 and part-financed by Santander at £3062.52, with a total value of £6,125.04.
Benefits to the organisation
Knowledge and expertise of a Lancaster University students
Support to promotion of the business at local networking events
Promotion of our services to a wider audience via social media
Direct support face to face to our clients on compliance registers
Increased awareness to our key stakeholders including Santander and Lancaster University as to our services
Feedback and Impact
Becky Toal, Managing Director of Crowberry Consulting Ltd, said:
"It massively benefits our business to work with Lancaster University giving quality internship roles to their undergraduates. We deploy these highly intelligent interns to our various projects, which involve research, and customer-facing work and development.
"In 2019 we hosted two internships, one who supported the development of templates to ISO 50001 energy management and ISO 14001 environmental management. The other intern supported us with research to update our compliance registers for customers again on energy and environmental laws. Both interns were able to support us on local business networking events, to promote our brand and our services to North West based businesses. The two interns had the opportunity to go out and meet our customers face to face. They also both benefitted from learning and achieving a Level 1 in Customer Service Diploma provided by The Growth Company. The support from the interns has helped us to maintain loyal customers and increased our sales by targeting new customers.
"I would highly recommend working with the team at Lancaster University who make the process of recruitment easy and pain free for any business looking for extra resource on a wide range of projects. It can be daunting for any SME business to take on new people, however, the positive aspects gained from providing internships outweighs any fears the business owner may have and I would encourage anyone who needs short term resources to consider this option for their business."