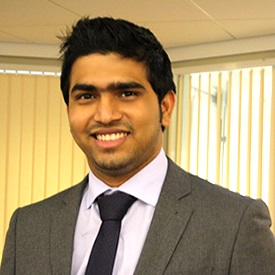 Vinay Yadav
Country Of Origin: India
Degree: MSc Logistics & Supply Chain Management, 2013
---
Materials Manager, Lufthansa Technik (India)
---
The key reasons behind my decision to study at LUMS were its overall consistent ranking position and the recognition of MSc Logistics and Supply Chain Management. The presence of all professional facilities acted as a supportive force in my decision-making.
The curriculum was very well-defined and organised efficiently. Working on live projects, such as improving James Walker's production system and supply chain practices of L'Oréal, provided us with a strong exposure to the actual functioning of the industry.
Working in a group for a project was an interesting activity. It was a great experience to learn about different cultures, along with sharing and improving knowledge. I have friends from more than 13 countries which is indeed a unique privilege for me.
The structure of the programme was very demanding and my main focus was to get most out of it. I also tried my best to be a part of social activities on campus. I was an active member of Green Lancaster Society and Indian Society. Also, I was an Executive Member of Global Career Development Programme at Lancaster University. I am still working as a Postgraduate Ambassador of Lancaster University Management Science Society.
The dissertation was very challenging, but it brings out the researcher inside you. My dissertation required me to deploy both qualitative and quantitative research methods in order to get the desired result. The University provides all-round support to make it perfect. Dissertation writing sessions before commencing of the last term and on-desk support from the Linguistic Department played an important role in helping me write my dissertation.
LUMS Careers are very helpful in making you presentable in front of companies through tailoring you resume and LinkedIn profile; and creating awareness about the on-going trends and practices in various industries.
Right from the first Big Night Out to the Graduation Ceremony, it was a fabulous experience throughout the year. Having a huge campus with great facilities was something very memorable in everyone's thoughts. Celebrations of festivals of different communities, such as Chinese, Indian, French, and Russian evolved as sense of belonging with different nationalities. The beauty of the city and friendliness of staff in business shops in town gave me a cheerful feeling of being a student.
Currently, I am working as a Materials Manager in Lufthansa Technik in India. The skills and techniques which I have developed during my degree act as an asset to my career. It feels amazing when you come across situations in your real working life that resemble the projects which you have already done during your degree.