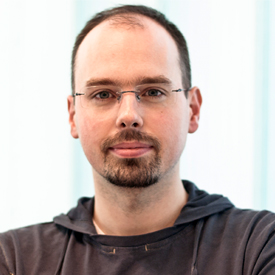 Franz Buscha
Country Of Origin: Germany
Degree: PhD Economics, 2007
---
PhD Director, Westminster Business School
---
Before completing his PhD in Economics, Franz obtained BA Economics and MSc International Business degrees at Lancaster.
Back in 1998, Lancaster had a very nice prospectus and this first drew my eye to choosing Lancaster as a possible destination. After doing a tour around various shortlisted Universities (including Manchester, Bath and Loughborough), I found that Lancaster seemed to have the best atmosphere in terms of friendliness, local and student life. The campus nature of the University, the various Colleges and the charming characteristics of Lancaster town all finally convinced me that Lancaster and LUMS was the place to go. Another important reason was that Lancaster allowed students to choose three subjects in the first year and there was a possibility of changing your major to any one of those three by the end of your first year. This was quite important, as I wasn't 100% sure yet that I wanted to study Economics. Ultimately, I stayed with Economics but could, for example, have diverted into Politics, if I had wished so.
I think it took me a while to fully appreciate all the learning opportunities I had and it wasn't until after I received my second year exam results that I woke up and really started working on my degree (I did manage to get that 2.1 in the end!). Ultimately, I enjoyed pretty much everything about my degrees, but my favourite subjects were Labour Economics and Development Economics. I always knew that I wanted to pursue further study at Master's and doctoral level, so in the end I had to choose one of these for my Master's dissertation and PhD topic. As so very often, the final choice came down to a particular teacher who I thought had great enthusiasm and whom I respected very much. The choice was Labour Economics and the person was Professor Steve Bradley (who is still at Lancaster).
On a side note, the one thing I enjoyed the least – Statistics and Econometrics – is something I now use the most in my daily working life. It can be a funny world and I recommend not skipping on the quants. It can be one of the most transferable skills.
My original plan was to join lots of societies and sport clubs but then I quickly discovered Grizedale bar and that was that… I did, however, end up becoming the Economics PhD Representative later on. In addition, whether you take part in clubs or not, you will find that especially at Master's and PhD level you automatically become much closer and integrated with your fellow students.
My time at Lancaster was something I will never forget and I remember every single year and all its events in great detail. Ultimately, I stayed 8 years from 1998 to 2006, so I clearly must have liked something about Lancaster. Of course, it is also the place where I met my future wife.
I participated in a few Career Fairs, but in the end, because I knew I wanted to stay in academia, I received most of my career advice from LUMS academics directly. I was lucky and got the first job I applied for (Research Associate) and then worked my way up the ladder. I'm still with the same employer, but have a different role profile now.
I ended up becoming an academic myself and am currently the PhD Director of the Westminster Business School at the University of Westminster. Here, I am in charge of operating our PhD programme and am responsible for things such as admissions, chairing examinations, monitoring progress, doctoral training and a whole bunch of other things. I am also a member of our Economics Department and teach Labour Economics to undergraduates and postgraduates. Finally, whenever I have some time left, I actively research into issues of labour and education economics and supervise my own PhD students. Clearly, all the skills I have learned at Lancaster come in very handy in my current employment and I still maintain regular contact with various academics in LUMS.