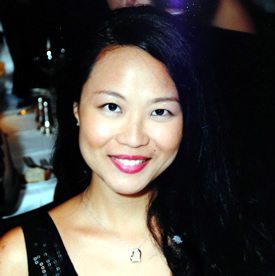 Iting Huang
Country Of Origin: Taiwan
Degree: MSc Advanced Marketing Management, 2013
---
Marketing Executive, Brightek (Europe) Limited
---
Having completed my undergraduate degree in Taiwan with a few years' experience in the Czech Republic, China and Taiwan, I decided to apply to the Advanced Marketing Management MSc (AMM) programme at Lancaster to help me pursue a career specialised in marketing.
I chose the marketing subject as I've always had a passion for marketing and am also good at doing it. I signed up for the AMM programme at Lancaster University because of its reputation, the opinions of employers, opportunities to work with industry (Microsoft Live Case and company-based dissertation option), the intense but well-organised teaching structure and rich resources.
The programme content is well designed and delivered by highly qualified teachers. The modules at the beginning of Term 1 are designed to lead us into the core of the learning experiences on AMM and followed by different modules to build our academic knowledge and to get us comfortable with team working and group discussion to learn to appreciate different voices. The most valuable takeaways I got from AMM were the experiences of working and discussing projects with my fellow students from different backgrounds.
After graduating from Lancaster University, I am now working as a Marketing Executive for an LED company in its London office. With the experiences I gained from the AMM programme, it's very comfortable for me to deal with my clients and partners. With the knowledge I learnt from the researching markets module, I can research and study the market here in Europe and execute the right campaigns and strategies.
The Advanced Marketing Management programme has taught me to think freely and out of the box. With the right attitude and determination, I find that there is more than one solution to each problem. I am truly happy that I chose the MSc Advanced Marketing Management for my postgraduate study: the campus, the staff and my fellow students all gave me a pleasant time and great learning experiences.