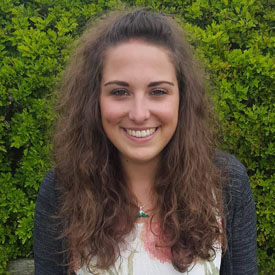 Zoe Furness
Country Of Origin: United Kingdom
Degree: BSc Business Studies (Industry), 2016
---
Graduate Marketing Trainee, Johnson and Johnson
---
Lancaster University is a lovely campus university, and with LUMS being a highly regarded Management School, it was very appealing to study there. The flexibility of the degree scheme was also very inviting, as it allowed me to experience a wide range of subject areas, so that I could make an informed decision about what to specialise in as I progressed through my degree.
The Business Studies degree at Lancaster is a very broad degree scheme that allows you to experience a wide range of different disciplines, ranging from Accounting and Finance to Marketing. Also, the option to complete a placement year as part of my degree was a fantastic opportunity, and one that I am very glad that I embraced. There have been some really interesting modules that I've had the chance to study, especially within the Marketing Department, which fuelled my interest in pursuing a career in Marketing.
Lancaster University has something for everyone, which is what I really enjoyed about the University. Throughout my time at Lancaster I have been a member of numerous societies, including: Ballroom dancing, Trampolining as well as helping to set up the Guide Dog society. Getting involved in a variety of extra-curricular activities has been really enjoyable as you get to experience new hobbies, whilst making new friends. As part of Roses, which is an annual sporting competition between Lancaster University and York Univeristy, I was in the Trampolinning team. The Roses Weekend has got to be one of the most exciting weekends of the year, with everyone coming together, and the University spirit being felt everywhere.
As part of my degree I completed a Marketing placement at Johnson and Johnson, based in Maidenhead, Berkshire. I was on the Listerine Mouthwash brand team for a year, working with a number of different agencies to create different marketing executions for the Listerine range. I learnt so much during my year there, particularly because Johnson and Johnson gave me responsibility from day one, and I embraced every opportunity in order to make the most out of my experience.
My time at Lancaster has been amazing! I have had so many fantastic opportunities, and learnt so much. I wouldn't change it for the world.
I initially attended career fairs to get an understanding of the types of jobs on offer, and make initial contact with the companies I was interested in. I then attended a one-to-one session with the Careers Team to discuss and improve my CV, and it was at this meeting that I was persuaded to apply for the role at Johnson and Johnson, which I went on to secure.
Off the back of my placement, I have secured a graduate position at Johnson and Johnson, in their Marketing Department, as a 'Graduate Trainee'. Having specialised in Marketing throughout my degree, I have the underlying knowledge to be able to pursue a career in this area, and having completed a placement, I understand how to work in a business environment.