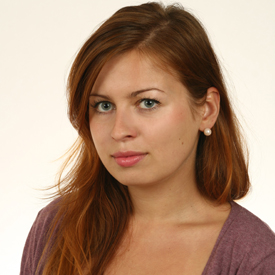 Agata Maslowska
Country Of Origin: Poland
Degree: MSc ITMOC, 2015
---
Business Analyst, Bank of Scotland
---
I started the MSc Information Technology, Management & Organisational Change programme at Lancaster University as part of my double-degree Master's with Kozminski University in Warsaw. I was one of the five students with a strong academic and personal profile who were chosen and granted with a full tuition fee scholarship. At Kozminski University, our programme was business and management oriented but I have always had a keen interest in technology. Before joining MSc ITMOC, I had been working in marketing analytics. I was very excited to expand my knowledge on different aspects of technology and organisational change, and to experience the British approach to teaching and studying.
I really enjoyed the diversity of the modules offered on the MSc ITMOC programme. Some of them required a very philosophical approach, whereas others mainly focused around data and practice. Also, the choice of elective modules gave everyone a chance to personalise the course to suit them and to broaden their knowledge in different areas of study, such as e-business or cyber security. Another aspect I found extremely helpful was the combination of workshops and meetings with MSc ITMOC alumni, which prepared us well for the programme itself but also helped us shape future decisions after graduation.
All of the MSc ITMOC lecturers had an outstanding experience and professional background in the industry, and they enthusiastically shared the know-how and real-life cases. The diverse combination of students made the programme special. I found out that the majority of participants had an impressive professional or academic background. Also the fact that we were a combination of different nationalities made it fascinating to participate in discussions and group exercises during the lectures.
I truly believe I used my time at Lancaster to the fullest. Besides the MSc ITMOC programme, the University offered a great variety of societies, additional courses, inspirational lectures and workshops. I was a member of the Lancaster University Polish Society, I volunteered at a local animal shelter, I had a part time job, I took a Mandarin course and much more. Of course, it was challenging, but it was challenging in the best way possible.
After completing the course at Lancaster University, I returned to Warsaw to complete my degree at Kozminski University. After graduating, I enjoyed a well-deserved month-long backpacking trip in Southeast Asia and then moved to Berlin to gain new professional experience in a consulting company. Currently I work in Berlin as a Business Analyst at Bank of Scotland.
Now thinking about my time at Lancaster University, I really believe that it was one of the best decisions I've ever made. I also noticed that companies and professionals are further interested in my intriguing academic profile. I developed myself not only professionally, but also on a personal level. I've made an amazing network of contacts and I've met amazing individuals that have inspired me to perform even better. MSc ITMOC will change the way you think and you will definitely be proud of yourself after completing the programme.