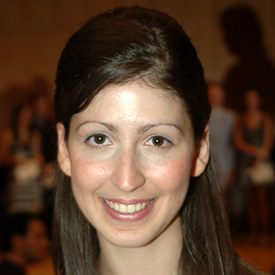 Theodosia Konstantinidi
Country Of Origin: Greece
Degree: MSc Accounting & Financial Management, 2007
---
Lecturer in Accounting, Cass Business School
---
After my graduation from the University of Macedonia in Greece with a degree in Accounting and Finance, I was looking for a leading university in the UK to continue my studies at a postgraduate level. I did some extensive research among various universities until I was convinced that the MSc in Accounting and Financial Management at Lancaster University was the ideal choice for me. The Management School at Lancaster is one of the UK's leading research institutions and is rated 'Excellent' for teaching. It has an outstanding reputation both in the industry and the academic world.
Studying at Lancaster University Management School was a unique and valuable experience for me. I stayed on a beautiful campus with all the facilities required for convenient living. The diversity of the programme gave me the opportunity to meet different cultures and make some good friends from around the world. The environment in the University was really friendly. Both the academic and the administrative staff were always supportive and very helpful.
The MSc programme I attended was intense and challenging. It was a combination of interactive lectures, group and individual assignments and a thesis, which helped me to cultivate both industry-related and research skills. The teaching was excellent and the curriculum was rigorous and very well structured.
Within only a year, I obtained a thorough understanding of the main concepts in accounting and finance at an advanced level. During the course, I developed an independent way of thinking, enthusiasm and confidence to pursue my goals.
At the moment, I am working at the University of Cyprus as an Early Stage Researcher of the European International Financial Reporting Standards (IFRS) "INTACCT" project, which is co-ordinated through the LUMS Accounting and Finance department. As a member of this program, I travel around the world and visit well-known universities, attend seminars and conferences.
Simultaneously, I am doing a PhD in Accounting and Finance with Lancaster University Management School. My PhD is funded by the LUMS Accounting and Finance Department. Moreover, I have registered for the A-level exam of the CFA qualification, which is funded by a scholarship from Lancaster University. I am really grateful to the people of Lancaster University Management School for their support not only during my studies, but also afterwards during my career development.


Theodosia has since taken up a post as Lecturer in Accounting at Cass Business School.