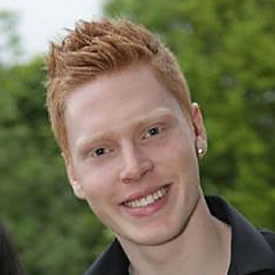 Joe Alston
Country Of Origin: United Kingdom
Degree: MSc Financial Analysis, 2013
---
Analyst, Voya Investment Management
---
The course which Joe studied, MSc Financial Analysis, is no longer available. It has been superseded by MSc Advanced Financial Analysis.
Joe studied Accounting and Finance at LUMS for his first degree, and decided to stay on for a further year to do a Masters to prepare him for his chosen profession.
I have always aspired to work in the investment industry, and the MSc Financial Analysis at Lancaster provides you with the perfect combination of skills and experiences to prepare you for a career in investment.
LUMS stood out to me due to the abundance of careers and networking events laid out by the careers team throughout the year as well as the opportunity to study towards CFA level. I knew that I would have to study towards my CFA Chartership, and the MSc Financial Analysis was the perfect course for me, as it provided tuition specifically aimed towards gaining a level 1 qualification.
During my degree I really enjoyed working in groups with other students from all around the globe.
The group work provided me with experiences and knowledge of other cultures that I would not have experienced otherwise and has been hugely beneficial when working in a global company.
I also found the dissertation module greatly enjoyable. Here I was able to apply the techniques learned throughout the year to a company of my choice. My dissertation lecturer was great – helping me not just with my dissertation but also giving me advice on my job applications and career choices. My dissertation gave me plenty of unique talking points for job applications and really helped my applications stand out from the crowd.
During my Masters I was part of the University football team travelling all over the North West. I was also a member of the snow-sports society during my undergraduate studies, taking part in various annual ski trips to various parts of Europe.
I met some really great people during my time at Lancaster. Lancaster gave me the tools and experience to go forward and be successful in my chosen career. All the staff were really friendly supportive, and I cannot thank them enough. The LUMS careers team helped me greatly. They helped me to perfect my cv, taught me how to network successfully with individuals in the industry and assisted in developing my interview technique. And the careers event throughout the year are great opportunities to network with people in the industry and get some insider tips for your applications.
After graduating I joined Henderson Global Investors in London, as a trainee analyst. I now work for Voya Investment Management as a reserch analyst. The skills I have acquired throughout my studies greatly helped me in passing my CFA level 1 and CFA level 2, making my CV stand out against other candidates. I am now well prepared to continue to study towards CFA levels 3, and to use the skills and experience acquired at Lancaster to be successful in the workplace.