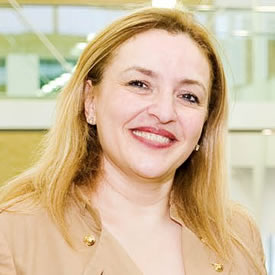 Nahed Taher
Country Of Origin: Saudi Arabia
Degree: PhD Economics, 2001
---
Co-founder and Non-Executive Director, Gulf One Investment Bank
---
Nahed came to Lancaster to take an MSc after studying Economics at King Abdulaziz University in Jeddah, Saudi Arabia. After completing her MSc she stayed on at Lancaster to take her PhD in Economics.
After graduating with her PhD from LUMS, and eager to "do something for my own country", she turned down a high-powered job with the International Monetary Fund, and returned to Saudi Arabia, where she became the first woman (among 4000 men) to be hired by the National Commercial Bank. Nahed worked here for several years as Senior Economist.
In 2005 Nahed was appointed CEO for the Gulf One Investment Bank, making her the first Saudi woman to head a bank in the Gulf region. Gulf One, headquartered in Bahrain with $100 million in capital, became operational in the second quarter of 2006.

Gulf One's financial products and services focus on mega-energy and infrastructure investments worth $1 trillion over the next 15 years. In addition, it provides services in restructuring and mergers and acquisitions, a presently non-existent but potentially lucrative segment in regional corporate finance in light of Saudi Arabia's accession to the World Trade Organization.
In 2006, Forbes.com voted Dr Taher one of the world's most powerful 100 women.