People
Lancaster's success depends on the talented, creative and committed people who work hard to make this University so special and distinctive. We also understand that leaders, managers and staff of other organisations need to learn, develop and 'grow'. Have that conversation with us – you might be surprised at how we can help.
Access our Experts
Lancaster University is one of the top research-led universities. We are home to some of the leading academics and researchers in their fields and we are continually looking at ways to exploit our research to make positive impacts on society, business and the economy. The university works closely with businesses to both generate and apply research insights and discoveries leading to commercially-viable products and services.
Learn More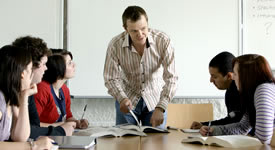 Connect With Talent
Our students and graduates are highly employable, with skills and competencies that allow them to work across a broad range of industries and occupations.
We offer a range of services to help you and your business connect with our students and employ our graduates. Talk to our employer engagement teams about attraction and recruitment of your future talent for graduate roles, internships, placements, year in industry opportunities, part time and casual work, or work experience opportunities.
Learn More