Lancaster University's Waste & Recycling Strategy was adopted in 2011. The projects and actions implemented as elements of the Waste Strategy have resulted in significant improvements in recycling rates and major reductions in carbon emissions associated with recycling and waste disposal. 
We work closely with Lancaster City Council and Cumbria Waste to ensure the minimum amount of waste goes to landfill, and the maximum amount is recycled or reused. All waste collections on campus are done using electric trucks to reduce carbon emissions.
Recycling 
All student residences have three stream kitchen recycle bins installed. The bins can take newspaper, magazines & cards, mixed glass and plastic bottles and metal cans. Internal segregated recycling bins have also been installed in office, administration and teaching areas across the campus.
Recycling campus map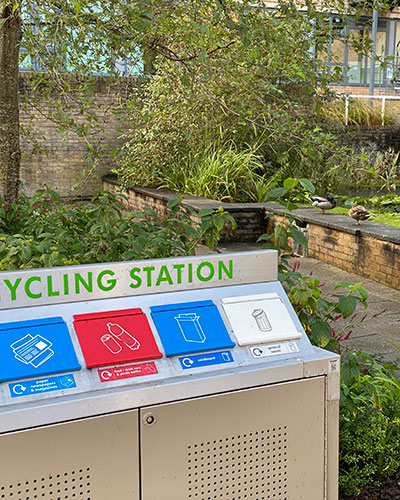 What can be recycled? Accordion
Over 70% of waste is recycled.
35 tonnes of waste was diverted from landfill for reuse in 2021.
Recycle clothing at charity banks located around campus. Don't Ditch It, Donate It
Every year the Don't Ditch It project collects more than 20 tonnes of unwanted items from students across campus and diverts them from landfill to be repurposed and resold in our ECOShop. Hosted by Green Lancaster and run by students, the shop sells a wide range of repurposed donations from the Don't Ditch It project, including books, electrical items and bedding that were donated to be reused by others.
Don't Ditch It