 Find out about works affecting buildings and services across campus and get updates on our current building projects.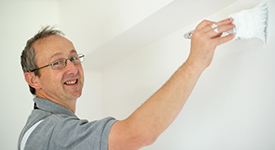 From sports pitches to spot cleaning, tree cutting to toilets, the Service Delivery team is responsible for providing a wide range of services across the University campus.
Commuting to Campus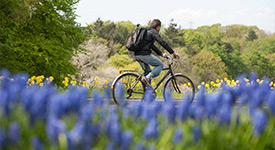 The impact of travel to and from the campus is a key environmental issue facing all of us. Whether you travel by car, bus or bicycle, discover how Lancaster University can help you.
Estates Development The Estates Development team manages new building and refurbishment projects to improve Lancaster University's facilities. Find out more about current and past campus development projects.
Security & Portering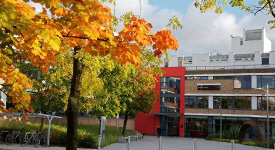 The University provides a team of trained Security Officers, working shifts to cover 24 hours a day, 7 days a week, 365 days a year.
Environmental Management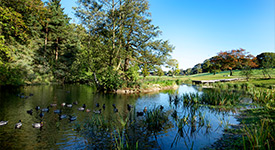 Find out more about how we work towards building a sustainable university.
Estates Operations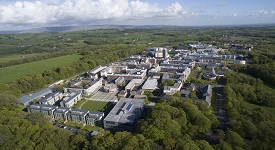 The Estates Operations team are responsible for the development and integrated operational delivery of all engineering, maintenance, utilities and facilities services.
Sustainability Lancaster has topped the university league table for reducing carbon emissions. Find out more about how we work towards building a sustainable university.
Sport Lancaster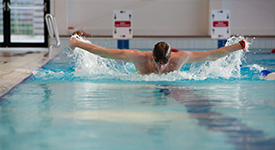 Sport has been an integral part of life at Lancaster since our inception. Our 560-acre parkland campus and state of the art Sports Centre provide many facilities for sport and keeping fit.
Meet, Eat & Drink Lancaster University has nine college bars, five cafés and restaurants and numerous other food outlets. You can also arrange catered accommodation whilst you stay, or catering for your meetings and events.
Lancaster Conferences + Lancaster Conferences + have the perfect space for a broad range of events and a team full of experience and expertise.
Design, Photography & Print Design, Photography & Print is Lancaster University's own printing and reprographics unit, providing high quality design, photography and printing services to staff, students and members of the public.
Pre-School Centre Providing an educational and entertaining pre-school service for the children of staff and students alike.
Accommodation The Accommodation team can help you with issues relating to on and off campus accommodation.