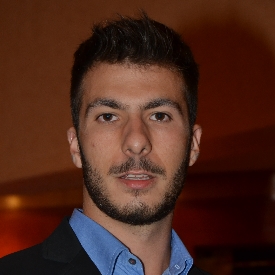 Dimitrios Kanelis
Country Of Origin: Greece
Degree: MSc Finance, 2016
Even before completing my undergraduate studies, I had identified LUMS as one of my top choices based on the School's reputation for excellent teaching quality. Furthermore, the course appeared to be very well-structured. However, the deciding factor was my campus visit. During the year before my admission in LUMS, I visited many business schools across the UK and Lancaster was by far the best when it came to facilities.

I particularly wanted to be able to study in an environment that combined state of the art facilities with the campus ambiance necessary to focus on my studies. LUMS exceeded my expectations on both regards. For these reasons, I definitely feel that the MSc Finance programme at LUMS was the right choice for me and should be considered by anyone who wishes to study finance both for academic and business purposes.

One of the reasons I enjoyed my learning experience in Lancaster so much was the talented peers and professors I met there. It was very motivating and exciting to study alongside and learn from peers and excellent academics. Furthermore, the programme was well structured and challenging, while the dissertation for the course was also a great chance for me to research into current and relevant issues in the global financial system.

The gathering of people from many different cultures and backgrounds really made university life at Lancaster come alive while the city was always fun to visit on weekends. Furthermore, for the infamous coffee addicts, there is an abundance of quality coffee shops on campus as well as in the city. Finally, for those interested in sport, the sports centre and campus facilities, in general, are ideal for students looking to let off some steam during those stressful days.

Through the double degree programme, I was able not only to test and enhance my existing technical knowledge but also to develop my language and communication skills. Furthermore, the double degree programme offered at LUMS enhanced my employability and future job prospects as it increased the number of countries and positions I can be employed at.

I received an Academic Excellence Scholarship from my department that partially covered my tuition fees. The scholarship contributed to my financial wellbeing and allowed me to focus on my studies. However, the greatest benefit I received was that through the scholarship, I felt that LUMS believed in my abilities and invested in me, which served as a great motivator!

As a part of the LUMS Double Degree Programme, I am currently undertaking International MSc Management with a specialisation in Corporate Finance at Catolica-Lisbon School of Business and Economics in Portugal. I am also at the final stages of securing an internship in the financial services sector.