Lancaster researchers design innovative toolkit for schools to highlight pathways to 'forgotten' creative careers
---
© Adobe
Researchers from Lancaster University Management School have designed a new toolkit for schools to inspire students across Europe to consider careers in the craft and artisan sector.
A group of year 12 and 13 students from Our Lady's Catholic College in Lancaster have been the first to test the new materials in the UK, while students in Poland, Bulgaria, Italy and Ireland are also providing feedback.
Aimed at young people, the toolkit is informed by the findings of a three-year collaborative research project called CASCADE, led by Lancaster University Management School (LUMS), which explored opportunities for growth, innovation and sustainable production of craft and artisan businesses across Europe.
The toolkit combines striking imagery with important, straightforward information about a wide range of jobs in the craft and artisan sector - from artisan tailors to digital artists, cosmeticians and basket weavers. It also offers a suite of videos capturing personal experiences of workers who share information about their own careers and what a normal workday looks like for them.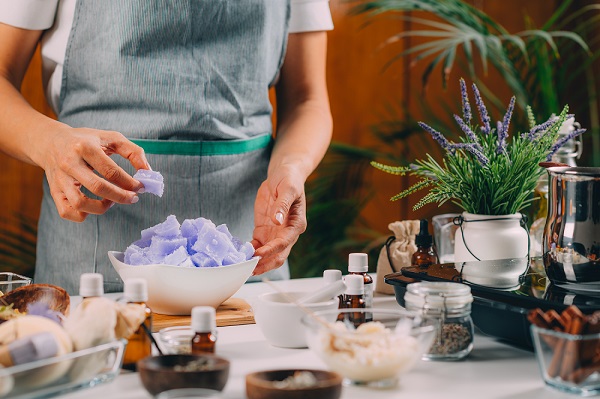 A cosmetician making soap by hand
The materials have received glowing feedback to date, with more than half of the UK students saying they had limited or no understanding of what a creative career was before seeing the toolkit, and broadly agreeing they were intrigued to find out more about creative careers.
Dr Carolyn Downs
Dr Carolyn Downs from Lancaster University Management School led the CASCADE project. She said: "By working closely with entrepreneurs from creative, artisan and craft sectors right across Europe, we were able to get a clear picture of the challenges and barriers they face in their careers.
"Some trades tragically appear on the 'red list of endangered crafts', so we explored the precarious position many workers are in and it became clear that there was a very real issue with the pipeline of future talent in all countries. This is despite many of these businesses being pretty future-proof – with their unique handicraft in no danger of being replaced by AI or future robotics.
"Careers within the creative, craft and artisan sectors can be hidden – which risks fantastic career opportunities being forgotten. Our toolkit will hopefully offer schools a helping hand by opening the next generation's minds to the wealth of opportunity in these sectors, and, outline clear pathways on how to get there."
Students and teachers have so far praised the simplicity and practicality of the learning materials with more than 60 % of students stating they'd never seen materials like the toolkit before.
Our Lady's Catholic College in Lancaster
Stuart Seddon, Pastoral Support Officer at Our Lady's Catholic College, said: "The learning materials present students with clear information about creative careers and detail a coherent pathway to each, so they can understand what they would need to achieve in terms of education/apprenticeships, and the videos tell interesting and real stories to add flesh and detail.
"These resources would certainly benefit students with a creative mindset, which standard career guidance in schools may well overlook."
To access the free toolkit, as well as other resources for businesses, covering topics such as inter-generational learning, digital marketing and how to effectively price products and services, please visit: https://cascadeproject.eu/
CASCADE is co-funded by Erasmus Plus Programme of the European Union, and saw LUMS researchers partner with SubMeet Association; Rural Hub; Lodzkie Centrum; Znanie Association; University of Lodz, and The Good Things Collective.
Back to News