A commitment to sustainability
Lancaster University is committed to sustainability. We declared a climate emergency in 2020 and aim to become carbon neutral by 2035. Our commitment on emissions
Changing how our campus is powered is a key part of our commitment to achieve net zero. Lancaster University is the highest producer of renewable energy of all UK universities according to figures published by the Higher Education Statistics Agency. We have already reduced our electricity and heating emissions by 50% since 2005.
Low carbon technologies on campus
The conclusion from our best science is – I would say – unusually clear and plain in communicating the urgency: we need to "bend the emissions curve" if we, as a planet, are to avoid the serious impacts of climate change.
Planning for a sustainable future
Our commitment to become carbon neutral by 2035 is written into Lancaster University's strategic plan.
From better buildings to efficient energy production – innovation, imagination and commitment are helping us achieve our carbon reduction targets. Find out about Lancaster's sustainability practice.
The Facilities Environmental Sustainability Plan is the overarching plan that summarises the approach to managing and reducing environmental impacts that the Facilities Division have influence over. It is formed from a series of specific plans that inform the University Environmental Sustainability Plan.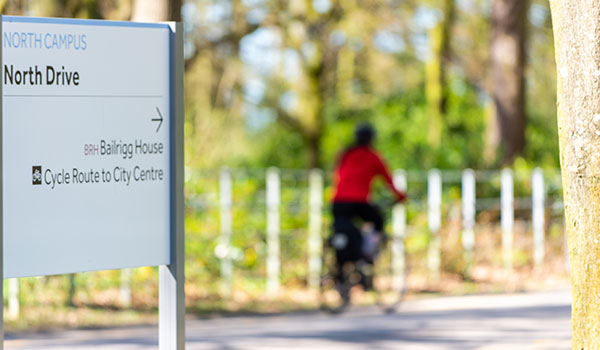 Travel
Lancaster offers a great transport network with superb links between the city, campus and further afield.
Travel - campus and beyond Energy Lancaster
Energy Lancaster brings together Lancaster University's world-leading expertise in a wide range of energy-related areas covering demand, supply and storage, as well as their environmental and societal impacts.
Energy Lancaster