Lancaster University College at Beijing Jiaotong University
Lancaster University College at Beijing Jiaotong University (LUC at BJTU) is a joint institute established near Weihai, Shandong province, by Beijing Jiaotong University and Lancaster University. Our courses are taught by Lancaster University and BJTU academics and graduates receive qualifications from both universities.
About Beijing Jiaotong University
Beijing Jiaotong University (BJTU) is a national university in China. It is one of the first universities selected for the "National 211 Project" and the "985 Innovative Platforms for Key Disciplines Project".
BJTU was founded in 1896 as one of the three original Jiaotong universities in China. It has established the Collaborative Innovation Centre for Rail Transit Safety, which is one of the first 14 collaborative centers selected by the Chinese government for the "National 2011 Projects". In 2017, BJTU was selected for the 'Double First-Class' National Initiative.
The BJTU campus in Beijing has an area of nearly 165 acres. In September 2015, the Weihai International Campus of BJTU in Weihai, Shandong Province came into service. All campuses have complete teaching and research facilities and beautiful environments.
For more information, please visit the BJTU website. Teaching and learning
At Lancaster University College at BJTU we ensure students are actively engaged in the learning process, we encourage working in teams and taking the earliest opportunity to explore different research approaches.
Our learning and teaching style ensures that LUC at BJTU graduates are equipped for the demands of employment on an international scale, by helping students develop crucial skills needed for success. We encourage independent and self-directed learning and show students how to apply the knowledge they learn. The overall aim is to enable students to become life-long reflective learners.
Students will achieve the following goals:
Improve critical thinking skills
Develop problem-solving skills
Learn to question existing viewpoints by studying different academic theories
Participate in group projects to improve teamwork skills
Learn to analyze and evaluate information from different sources
Carry out academic research through different methods
The overall aim is to enable students to become life-long reflective learners.
Programmes are taught in English by experts and researchers from both universities.
Global experiences
Lancaster University College at BJTU students have the opportunity to spend some of their time studying in Beijing or at Lancaster University in the UK, and graduates are eligible for Lancaster University Alumni Scholarships for further postgraduate study at Lancaster University.
Each year Lancaster University hosts an online conference bringing together undergraduate students from across our partnership to showcase and celebrate research they have conducted – whether as part of a dissertation, internship, placement, or coursework. The conference provides a valuable opportunity for students to present their research to an international audience.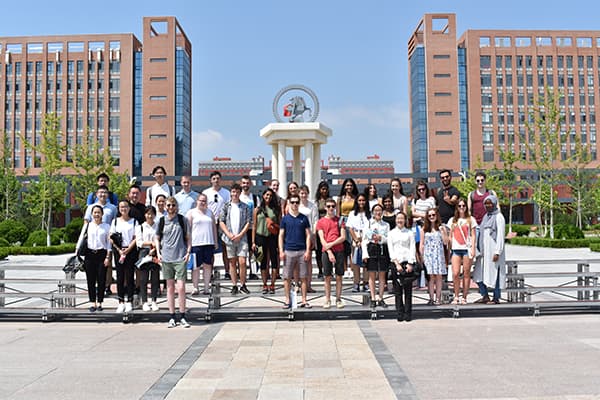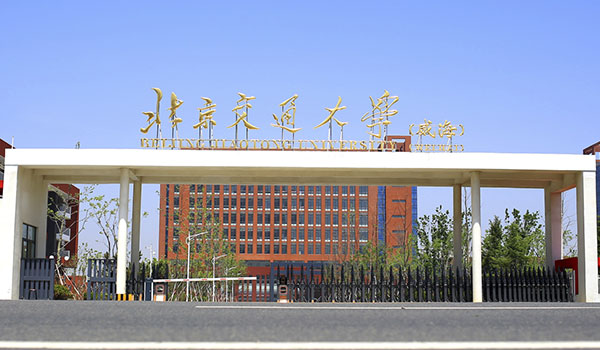 Weihai campus
Located in the east end of Shandong Province, Weihai city stands on the coast between Beijing and Shanghai, close to the Korean Peninsula and across the sea from the Japanese Archipelago.
Dubbed a 'Garden City' in China, the coastal city is famous for its excellent air quality, temperate climate, lush forests and picturesque islands. Its nearby islands, hot spring, beach resort, and other attractions mean that there are plenty of places to visit.
Weihai has a population of about 2.8 million and seven higher education institutions. It is an economically developed city with many large state-owned and private enterprises. Weihai, China and Incheon, South Korea are the demonstration areas for local economic cooperation of the China-Korea Free Trade Agreement.
The campus is on the south coast of the Shandong Peninsula, with purpose-built student accommodation, a well-stocked library and modern classrooms and teaching spaces. Alongside these, there are sports, shopping and dining facilities. It is approximately one hour from Weihai city centre, and 40 minutes from the Weihai airport.
Campus and facilities
Contact information
Beijing Jiaotong University, Weihai Campus
No. 69 Xian Dai Road, Nanhai New District, Weihai
Shandong Province, China
Postal Code: 264401
If you would like more information from Beijing Jiaotong University, please contact Mr. Zhang Zhiguo (zhangzhiguo@bjtu.edu.cn).
If you would like more information from Lancaster University, please contact Mr. Hanbin Yao (lancaster1@bjtu.edu.cn).