Lancaster University Ghana graduation ceremony 2023
---
On Thursday 21 September, Lancaster University Ghana (LUG) held their seventh graduation ceremony at the Movenpick Hotel, Accra. More than 60 students received degrees for programmes from Lancaster University Management School (LUMS), the Faculty of Arts and Sciences (FASS) and the Faculty of Science and Technology (FST).
Pro-Vice-Chancellor Global (Digital, International and Sustainability) Professor Simon Guy, presided over the ceremony and delivered the opening address to graduands and invited guests. Deputy British High Commissioner Keith McMahon, spoke to the audience about the value of higher education in Ghana. Speeches were also delivered from LUG Provost Dr Emmanuel Arthur and the Transnational Academic Group's CEO Dan Adkins.
Special awards were presented to outstanding students for their academic achievements:
The Chancellor's Medal was awarded to student valedictorians Ruquaia Shuabiu and David Bristol Alagbariya.
The Founders' Award, which recognises the students who best embody the values of the Transnational Academic Group (TAG), was presented to Stephanie Asare-Kodua.
The Lancaster Award, which acknowledges students' extracurricular activities, was presented to 28 students.
The ceremony concluded with the valedictorian's speech and an address from Pearl Stan-deh, an alumnus of Lancaster University Ghana from 2021.
Also in attendance at the ceremony as a guest was Oheneba Lovelace Prempeh (pictured far right in the photograph below), Lancaster University's first ever Ghanaian graduate who graduated in 1968 with an Economics degree, and who received an Alumni Recognition Award at the first Ghana ceremony in 2017.
Professor Guy said: "It is a pleasure and a privilege to present awards to our students graduating from Lancaster University Ghana. We are committed to producing the graduates Ghana needs to fulfil its ambitions to grow economically and bring lasting prosperity to all of its people in the years to come".
Lancaster University Ghana was established in 2013 in partnership with the Transnational Academic Group.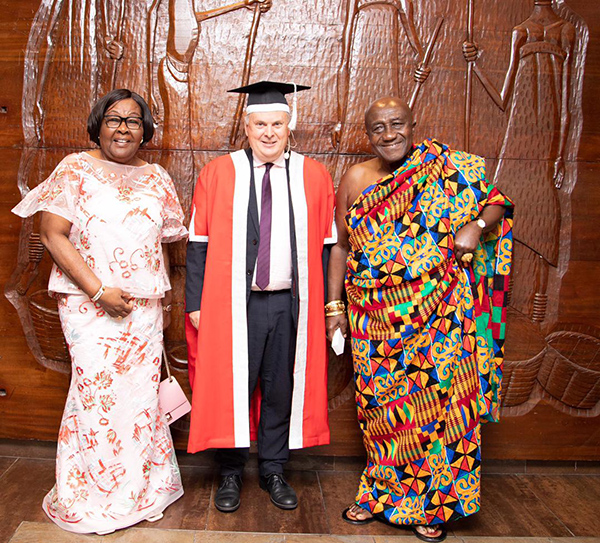 Main photograph caption: front row L-R: Professor Malcolm McIver (Chief Executive, Transnational Academic Group), Dr Emmanuel Arthur (Provost), Dr Cynthia Forson (Deputy Provost), Keith McMahon (Deputy British High Commissioner), Professor Simon Guy and Dan Adkins (Transnational Academic Group CEO)
Back to News