Lancaster welcomes Indonesian Scholarship Students
---
Students from Indonesian International Student Mobility Awards (IISMA) programme pose for a photo outside of Lancaster University Management School
For the third year running, Lancaster University has welcomed students for the Indonesian International Student Mobility Awards (IISMA) programme, a prestigious scholarship initiative sponsored by the Indonesian Ministry of Education and Culture.
This year thirty students from Indonesia, the biggest cohort yet, have joined Lancaster for Michaelmas Term. The IISMA programme enables Undergraduate and Vocational students from the Republic of Indonesia to spend one semester at some the best universities and industries around the world. While here they will be studying across many different departments and taking a mix of modules.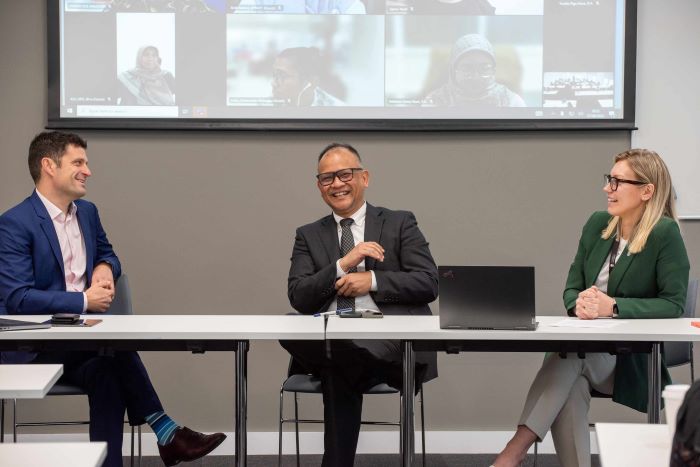 A welcome event and dinner of Indonesian cuisine was held to greet the new students and was attended by the Indonesian Education and Culture Attache, Khairul Munadi, who welcomed the awardees. Mr Munadi addressed students to welcome them and emphasise the opportunities available to them through the scheme and at Lancaster University. A number of Indonesian universities joined the event virtually, utilising the digital connectivity of our interconnected global landscape.
The welcome event was followed by a 'meet and greet' dinner, bringing IISMA awardees, Lancaster students, members of staff and the Lancaster Indonesian society (PPI). Attendees enjoyed a variety of Indonesian cuisine, from chicken satay to nasi goreng, a traditional rice dish, followed by music and dance performances from a live band, and poetry readings by IISMA awardees.
Deby Abilya, an IISMA Awardee visiting from Institute Technology Bandung University said: ''The event was such a pleasant experience! As IISMA students, we felt really included, special, and regarded as family. We can't wait to have Lancaster University as our new home for the next three months!"
Professor Simon Guy, Pro-Vice-Chancellor Global (Digital, International, Sustainability) at Lancaster University said: "It is wonderful to be able to give a warm welcome to our new students from Indonesia and with such a fantastic showcase on Indonesian Culture. We are committed to ensuring all the students who have joined us benefit from all that Lancaster has to offer academically and culturally and that they return home having been fully supported in their studies and have built networks with peers and academics which will be of life-long benefit to them and their communities."
Richard Andrew Sumadi, President of PPI Lancaster 23/24 and Vitto Axel Wilianto, previous President of PPI Lancaster, said: "This event meant so much for Indonesian student society (PPI) Lancaster as it brings the Indonesian community closer with the Indonesian exchange students. With having such events, we are able to explore talented Indonesian students here at Lancaster University."
Lancaster University was selected as a recipient of the prestigious IISMA following a competitive selection process and the programme at Lancaster has seen a substantial increase in interest over recent years. The IISMA scholarship scheme by the Government of the Republic of Indonesia funds Indonesian students for mobility programs at top universities and reputable industries overseas.
For more information about our IISMA programme, please contact Tania Hughes t.hughes5@lancaster.ac.uk.
Back to News