ParentZone help centre
ParentZone was introduced by the Pre-School in 2018 as a way of giving updates and communications to our parents about the activities and progress of their children. In this section you will find everything you need to know to get you started and familiar with the ParentZone app.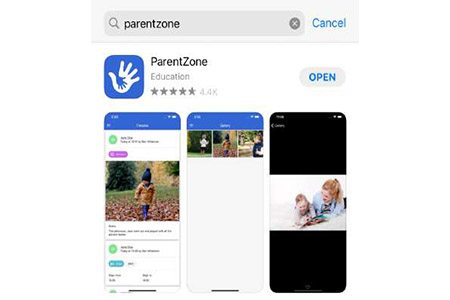 Accessing ParentZone
Prior to your child starting at the Centre, you will receive an email to your registered email address(es) inviting you to create a password and access ParentZone. Please provide an email address for each parent that wishes to have access to your child's information.
You can download apps for ParentZone for both Android and iOS(Apple) devices. Just head on over to the respective app store and search for 'ParentZone'.
If you do not have a tablet/phone device to download the app to, you can access ParentZone online on a computer by visiting: www.parentzone.me
ParentZone User Guide
The tips featured below are taken from the downloadable ParentZone User Guide. We strongly recommend that all our new parents read the guide before getting started with the app. The guide contains important information including how to use the app and what information should be uploaded.
Access your main menu
Access the menu using the button in the top left-hand side. All enabled features will appear here and this is the quickest way to navigate the app. If you experience any issues with the app or are unable to find information then please contact the Pre-School reception team for help.
If you are unable to access your account, please check you have followed the steps below. If the problem persists, please get in touch so we may explore the issue further.
Once you have received an account activation request by email:
Click on the link to activate your account
Input your child's DOB
Create a password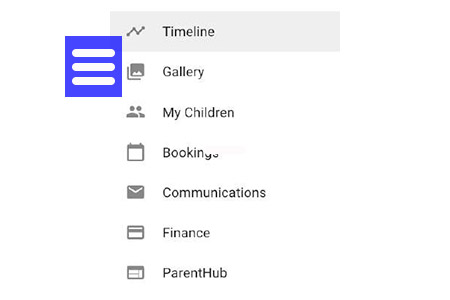 Access Parent Hub
As well as instant updates on your child's activities and achievements, ParentZone gives you access to Parent Hub.
Full of helpful resources, information and activity ideas, Parent Hub helps further improve child development by encouraging a continuation of learning at home.
Find it within the main menu of the ParentZone app today, or head to: https://www.parentzone.me/parenthub/
On Parent Hub, you will find Home Activities which are all linked to EYFS. You will also find Nutrition information, Recipes, Useful links and Apps.
To view the hub articles, select the Hub at the top of the screen, each article will then display below.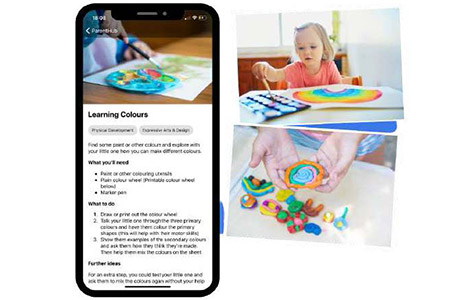 Adding observations from home
Your child's Key Person cares about how your child develops outside of nursery too and some nurseries will allow you to add your own observations from home.
This gives you the opportunity to contribute your own moments, noting down all the fun things you do at home with your children. Use the app to share your child's best (and worst!) moments with your child's Key Person, by adding a photo, video or comment on the app.
Click on the '+ Observation' button on the bottom right of the Timeline. Select the child (if you have more than one).
In the notes section, tell your nursery what you got up to.
Write what your child said in the 'Child's Voice' box (or leave blank if they didn't say anything).
Click the add sign - this will give you the option to open your photo library or take a photo/video there and then. Select as many photos or videos as you wish to include.
Remember to click 'send to childcare provider'.
Once your Key Worker has published the event, you'll be able to see it on your child's Timeline.
Wondering what observations to include? It's all covered in the ParentZone User Guide. There's no limit to the observations you can post but click the link to download a useful guide which explains in detail the things we aim to observe.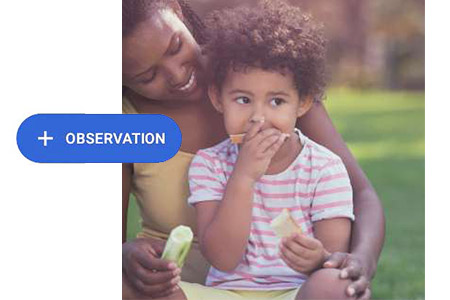 Notification settings
You will receive notifications by email, in app or via push notifications on your device, for all new messages and published events by default.When ParentZone is first installed, you can allow the app to send push notifications and then customise your notification settings from within the app.
To personalise these settings:
Click the left hand menu and the drop down button next to your name
Click>Settings>Notifications Here you can toggle the on/off button for each event and each notification preference.
Choose between email, in-app or push notifications so you never miss a moment again.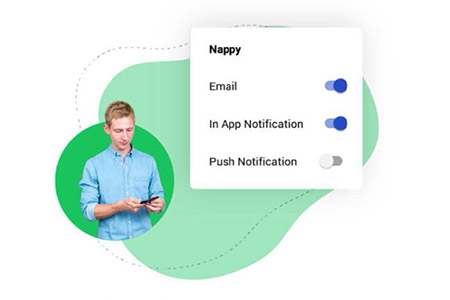 View your child's profile
Head to 'My Child' on the menu, here you can see your child's details which include permission questions and health and dietary information. If there's something not quite right, please contact reception to update the information.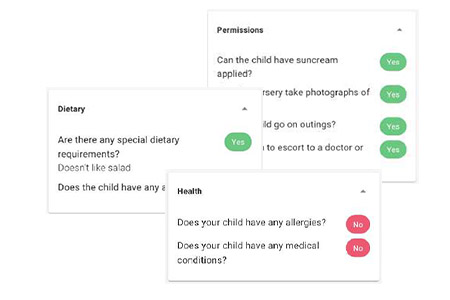 See our newsletter
Every couple of months we publish a short e-newsletter to let you know about key events and dates as well as giving you some of our favourite highlights for the past month. Our newsletters are posted here too so click the link and take a look.
Newsletter Archive