Colleges and Community
Nine colleges - one home Central to the Lancaster University experience
When you arrive, university can seem like a buzzing town where everyone else knows where they're going. It can take a while to get your bearings, but your college is there from day one. It's your base on campus, a place you can put down roots, your home.
For most students, your college is also your accommodation for the first year, but it's more than just a place to stay, it's where you'll study and socialise too. You can meet your friends in the social space or join in your college's events and activities such as quizzes, live performances or even cooking classes. If you live off campus, or move into the city in your second year, your college is still yours, wherever you're staying.
You'll make friends through your course and any societies you might join too, but your college is a ready-made set of friends. You'll live together, compete together in intercollege competitions and most people find these are the friendships that last the longest.
During your time at Lancaster, your college offers the first port of call for any support. There are staff on duty round the clock, ready to help, whether it's a friendly word of advice, or something more serious.
Once you have your degree, you'll leave Lancaster University behind, but you'll always belong to your college.
What does it mean to be part of a college?
You'll hear a lot about our colleges, but what will it actually mean to you when you're studying at Lancaster?
Third-year Grizedale College student and Digital Content Ambassador Abbie explains what it means to her to be part of a college, how your college supports you, and how being part of your college can help you build your Lancaster community. Emily's experience - Furness College
"The college really helps you settle in during the first weeks of university and beyond - there's always a friendly face to turn to and lots of support available. There are also loads of ways to get involved. I joined the women's netball team, took part in the Nine Colleges Sustainability Challenge and became a my college Sports and Activities Officer. Not only do these opportunities help you to be social, but I've developed my leadership, interpersonal and organisational skills too. I've met many of my closest friends through Furness College - it's my home at Lancaster. "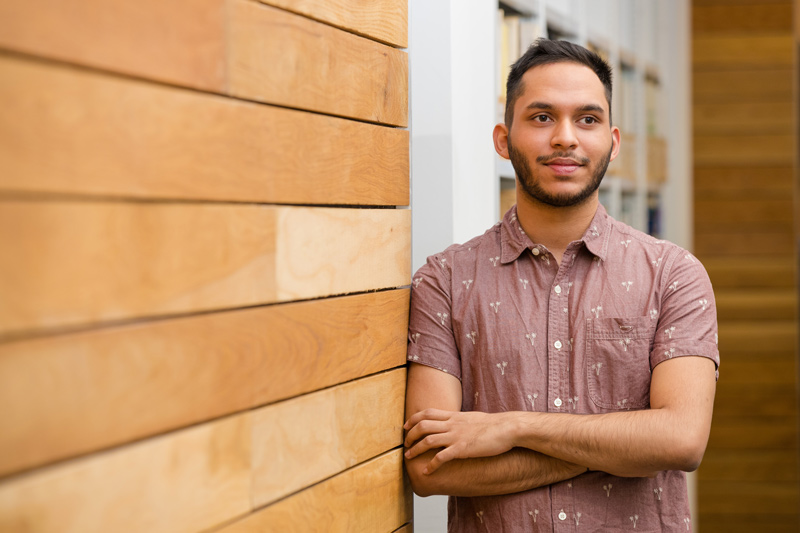 Atree's experince - Grizedale College
I feel like it could be easy for people to feel like they don't fit in at university and worry about getting lost at a place this big. The colleges help you feel a bit more grounded and give you the chance to connect with smaller groups of people. It really helped me settle in.
The location of Grizedale was perfect for me, it was a real perk to be close to my lectures in the Management School in first year. I lived in a superior en suite. One of the best parts was having a little social space in our kitchen with sofas. It meant we all had a place in the flat to socialise together.
I've been heavily involved in college life, so much so that I can't imagine what my university experience would have been like without my college. To put it into one word, it would be incomplete. The college system has helped me develop skills I didn't know I had, make friends that will last a lifetime, and also help me grow as a person overall. Your community
There are so many members of the Lancaster University community that leave a footprint on the hearts of others, and are remembered by our students long after they leave Lancaster. Our college porters are a friendly face and a first point of contact in colleges for our students, 24 hours a day.
In this video, Lonsdale College student and Digital Content Ambassador Chelsey wanted to thank Paul for his help and support when she moved to Lancaster.
Our students' experiences
Listen to our students describing their experiences of the Lancaster community: the societies they join, the people they meet, and the friendships they make.
View transcript

Student 1: "I'd describe the community at Lancaster as very friendly. It's very open, it's very easy to get on with people, it's very easy to meet people with like-minded interests." Student 2: "This community is one that's very tightly knit. Everyone seems to be wanting to help each other out, you know. Everyone's just so nice and helpful." Student 3: "My community at Lancaster, it's very special, it's different, it's very unique because of the wide range of cultures, personalities, just different individuals that you encounter on a daily basis." Student 4: "Lancaster University is so welcoming. The reason that I came to Lancaster University is because of the feel that I got when I attended an open day. I visited a lot of universities, and when I came to Lancaster it was so friendly." Student 5: "Also I like the campus a lot, and I didn't think I would like a campus university, but I think it's really helpful in first-year, makes you feel settled in. It really does feel like a community and you have all the accommodation so close, all in one place." Student 6: "I'd say there's quite a good community feeling, especially with the college system. You tend to get to know quite a lot of people in your college, and you have that identity as part of your degree and the people you hang out with. The community feel is definitely quite strong in comparison to other unis I've been to." Student 7: "It's so easy to meet people here. There are so many societies, and there's not going to be one that you're not interested in if that makes any sense. You'll find something that you're going to be interested in, and if you do, you're going to find other people that are interested in the same thing. That way, you're just going to meet people with common interests and make friends." Student 8: "I joined quite a lot of societies in my first year. They're another community that you can draw into. I did football, netball and darts in my first year. So I did college darts - that was kind of more sociable, we got to meet people on quite a friendly level, not too competitive. And then I did university football. So that was more competitive but still had the group of people that you could interact with, go to socials with. And then darts was kind of just turn up, have a laugh and it was a really nice way to get to know people." Student 9: "Subject-specific societies such as the Advertising or Marketing Society offer really great event, such as networking events with industry leaders or event social events, just getting to know other people on your course you might have never met, or even other people in the uni who don't do your course and you would never otherwise come across." Student 10: "I also joined photography society because that's something I had just started, so that was my hobby. I was just a member. We had workshops, went on some trips, which was really great."